Germany anti-euro party AfD makes strides in east
By Jenny Hill
BBC News, Potsdam, Germany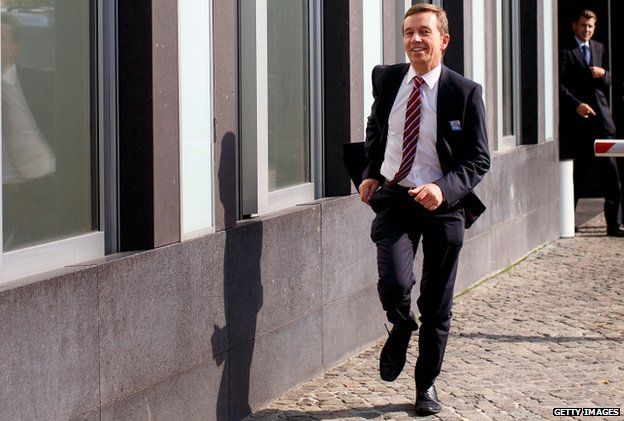 Summer is lingering in Potsdam, the capital of Brandenburg. Tourists sit in sunlit pavement cafes and cyclists negotiate the cobble streets.
This is left-wing country. At least it was until the weekend, when the anti-euro Alternative for Germany (AfD) won 12% of the seats in the regional parliament.
The centre-left Social Democrats are still in power here, but change is in the air.
In the local hair salon, hairdresser Ramon says he voted for AfD because he wants out of the euro.
"AfD puts our country first and says we should have our own currency like Switzerland or Denmark who do very well," he says. "No other party says that, so we need some change in Germany."
But there's concern here too. Critics say the AfD lacks cohesion.
There are provocative public statements. One senior official recently said that the ideal German family contains three children.
"They have weird ideas," said Marielle as she waited for her blow dry. "I would never vote for them."
When AfD was launched last year by a group of academics and industrialists it was met with derision.
Chancellor Angela Merkel dismissed it as a small fringe party.
But it now has seats in the European parliament, and at regional level in three states in eastern Germany - here in Brandenburg, and in Thuringia and Saxony.
"They can't deny it any more: the citizens are thirsting for political change," party leader Bernd Lucke told delighted supporters in Brandenburg.
For now the recipe of their success is two-fold, says Dr Patricia Hogwood of Westminster University in London.
Their anti-euro message is popular. So is their "rather old-fashioned" domestic focus on family values and law and order, she says.
"In the future I think these two different poles might be difficult to reconcile for the party. I think we could see an implosion as a result of the conflict between these two."
AfD now plans to target seats in Hamburg's regional parliament next year.
It is part of the former West Germany where voters are considered harder to sway than in the former east.
But they're confident. One German newspaper headline this morning read "AfD flies through the roof. Who knows what lies beyond?"