French PM Valls spared Merkel's thunder on Germany trip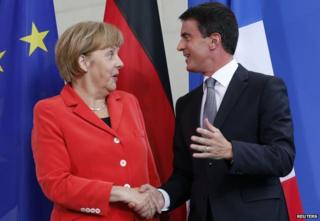 "France is the only EU country that can still arm wrestle with Germany," says Ulrike Guerot, a political scientist in Berlin.
But emerging from a working lunch together on Monday, Chancellor Angela Merkel and France's Socialist PM Manuel Valls showed no sign of a tussle.
And if Mrs Merkel had a strong opinion about how France was tackling its ailing economy she wasn't going to share it with reporters at a joint press conference.
"I see big efforts being made but the assessment of these efforts is being done by the European Commission not by myself," she said. "For me it's important we stick to what's been agreed at European level which is the growth and stability pact."
Diplomatic language which belies a rather awkward situation. France and Germany - traditionally a strong partnership in Europe - are on very different economic paths. And that's straining the relationship.
In Germany, the economy is strong, unemployment is low and its chancellor enjoys consistently high public approval ratings.
France has zero growth, record unemployment and the government has missed three EU targets to reduce its deficit. Its government is unpopular and faces a significant challenge from the far right.
"Merkel has all the power," said Ulrike Guerot of Monday's meeting.
And it will have been watched closely by governments elsewhere in Europe that have pushed through unpopular austerity measures in order to reduce their debts.
In the words of one German politician, Herbert Reul, from Mrs Merkel's own centre-right Christian Democrat party, "it's a brazen cheek to say it's impossible to save more". "That is a slap in the face of the Greeks or the Portuguese who suffered cuts," he told the Spiegel website.
Ahead of the meeting another official said: 'We have no interest in humiliating the French. But we would like to extract something out of them, including real, verifiable action on structural reform in return for letting them off the hook."
So Mrs Merkel was under pressure domestically to proffer - at least - a rap over the knuckles. It never came.
Manuel Valls announced - post meeting - that France was not the "sick man of Europe" and pledged economic reform. The chancellor stated that "each country must follow its own path".
We don't know what was said behind closed doors.
But the relationship between Germany and France is simply too important. They're trade partners and they need one another in Europe.
In the words of Daniela Schwartzer from the German Marshall Fund: "There is not only sympathy here for France, there is a very deep insight here that if France goes wrong we have a huge problem."