Belgian police in Brussels empty box protest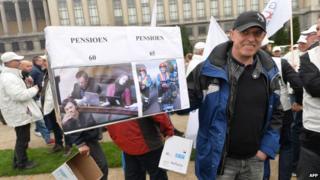 Loud bangs are echoing around the streets cordoned off by police in central Brussels, close to the venue of the EU summit.
It sounds like demolition work, but this is the noise of protesting police letting off firecrackers. One exploded right near me, leaving my ears ringing.
The 28 leaders of the European Union are set to spend the next hours discussing the international issues of energy and climate change.
But Belgian police have something else on their minds - a government move to end their early retirement privileges and bring them into line with other public servants.
Belgium's Le Soir daily says some 25,000 police are affected.
Mario Thys, head of the NSPV police union in Brussels, told me that the change in working practices could wreck his retirement plans and force him to stay in the job 11 years longer than he expected.
About 500 police marched through Cinquantenaire park with white trade union flags, letting off their firecrackers, blowing whistles and carrying empty boxes.
Why the boxes?
They would hand them to Belgium's interior minister, so he could fill them with better ideas, Mr Thys said.
The protest highlights again how local gripes are what really count for many of Europe's citizens.
Setting new global targets for moving to a low-carbon economy may be vital for the planet's future, but for politicians it's quite a hard sell.
Some will ask: how many votes are in it?