French footballers build bridges after Islamist attacks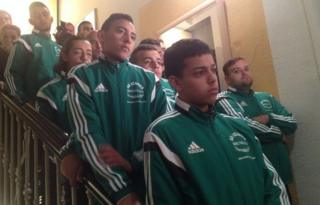 The teenage footballers, who are members of the same club as Toulouse Islamist murderer Mohamed Merah, paused for a minute in silence, paying their respects to the victims of the Brussels Jewish museum attack.
They stood next to a commemorative plaque just outside the museum's entrance, close to where two museum workers and an Israeli couple were shot dead in May, allegedly by another French Islamist.
The boys from AS Des Izards, most of them of Muslim origin, had chosen to visit the museum to show their support and learn more about Belgium's Jewish community.
"It was a moment of reflection, to gather our thoughts," Messaoudi Ali, the club's secretary-general, said of the minute's silence. "We all felt a wave of emotion when we passed through the entrance hall where the attack took place."
Club veteran Monir Bendib said the boys themselves had asked to come on the trip. "They thought it was important after everything that had happened here," he said.
Mehdi Nemmouche, who spent a year with Islamists fighting in Syria, is awaiting trial for the museum murders.
For the young footballers, the shooting bears an unmistakeable resemblance to another terrorist attack closer to home.
In 2012, Mohamed Merah shot dead three children and a teacher from a local Jewish school in Toulouse as well as three French soldiers who had served in Afghanistan.
Merah had grown up in Les Izards. As a young boy, he had been a member of the same football team.
"The area received a lot of outside attention because of that," said Mr Ali. But negative portrayals in the media after the Toulouse attacks led many there to feel they were being misrepresented.
Museum spokeswoman Chouna Lomponda said the footballers had complained that Merah's actions had given them a bad image.
"They wanted to come to set this right, to show that they are not only open to other cultures, but actively interested in learning about them," she said.
The visit is equally important for the museum, she believes, to prove that that the tragic events of 24 May have led to a building of bridges, seen as key in tackling religious intolerance and extremism.
"We fight against things we do not know. When young people make these visits, it brings about greater understanding and this stays with them in adulthood," she said.