Luxembourg speaks for the Dutch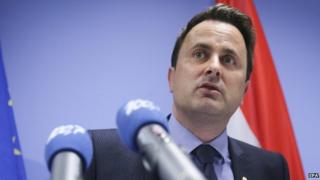 It's not often that a country of half a million gets to represent a nation of 16 million.
Luxembourg Prime Minister Xavier Bettel pointed that out light-heartedly, as he stood in for the Netherlands at an EU summit in Brussels.
His Dutch counterpart Mark Rutte is embroiled in a coalition dispute over healthcare legislation.
So Mr Bettel came here not long after Mr Rutte had phoned him to make the request.
It is all the more surprising because Luxembourg is in the EU spotlight over its controversial tax sweeteners for huge corporations like Amazon and Microsoft.
Why was Luxembourg chosen, rather than Belgium, to represent the Netherlands?
"Because I'm older [than the Belgian PM] and I've been in the European Council longer," Mr Bettel told journalists.
"For me it's a question of trust - you know how closely in the Benelux we work together."
Inevitably the hot topic of tax arrangements came up.
He said Luxembourg had dropped its appeals to the European Court of Justice over a European Commission request for information on Luxembourg tax rulings and the Grand Duchy's patent box scheme, which deals with intellectual property taxes.
The Commission had initiated an infringement procedure against Luxembourg.
But Mr Bettel said he was now satisfied that Luxembourg was not being singled out, because soon all 28 EU states would have to divulge tax information to the Commission.
"We always said fishing [for information] was not the right way to work - we insisted on a level playing field, so the rules are the same for everyone."
So Luxembourg defused the court dispute. But tax competition in the EU is still a big source of tension.
After the financial crisis, the time has come to investigate Europe's tax havens, where for years companies and individuals avoided paying - albeit legally - billions in taxes.