Swiss franc move leaves European homeowners counting cost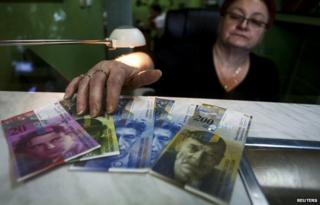 It's a very worrying time for many thousands of people in central and eastern Europe, as they helplessly watch the Swiss franc rise against their local currencies and see their mortgage repayments go up and up.
An estimated 566,000 Poles have taken out Swiss franc-denominated loans, that's about 37% of all mortgages here.
By Tuesday, the Swiss franc had risen 21% against the Polish zloty, following the Swiss National Bank's decision to abandon its currency ceiling against the euro last Thursday.
Real-time Swiss franc exchange rate tables are displayed on popular news websites, so Poles can groan and fret as they watch the franc edge higher. It's been the major front page story of the daily Gazeta Wyborcza three times in the past four days.
It's not just Poles. Many Hungarians, Croats and Austrians have taken out Swiss franc-denominated loans.
For years banks in Poland advised customers to take out a mortgage in a foreign currency, mostly the Swiss franc, because the interest rate was much lower than on a Polish zloty loan and the expectation was that the zloty would appreciate.
Then came the financial crash. In 2009, CEE (Central European) currencies lost much of their value against the Swiss franc, sending monthly mortgage repayments skyward. The Swiss National Bank's decision has now piled on more pain.
Robery Grausam-Onyszkiewicz from Krakow told the TVN24 news channel that he had taken out a 150,000 zloty (£26,000; €34,000; $40,000) credit denominated in Swiss francs in 2008.
Now he owes the bank 500,000 zlotys.
"I lost two jobs, my health deteriorated. Let my example be a warning," he said.
The franc's rise and the possibility that it will remain strong have again raised concerns that people will be unable to meet their repayments.
At the moment only about 3% of Poles are in arrears. That's partly because Polish banks tended to offer Swiss franc loans to wealthier borrowers.
However, there are already calls for greater protection for homeowners and those will likely increase because Poland holds parliamentary elections this autumn. Politicians will be tempted to ease the pain for households.
Hungary has already done so, forcing banks to convert Swiss franc loans into local currency credit at favourable rates.
"Banks should take steps to share the burden," Adam Jasser, the head of Poland's Office for Consumer Protection and Competition, UOKiK, said on Tuesday. "From our point of view the key is for clients not to be injured," he added.
Poland's Prime Minister Ewa Kopacz on Tuesday ordered UOKiK and the banking regulator to investigate reports that some banks were altering mortgage agreements at the expense of the borrower.
The banks are also considering helping out.
The head of the Polish Banks' Association, Krzysztof Pietraszkiewicz, told Tok FM radio on Tuesday that some banks were considering a suggestion that homeowners could keep paying their instalments for a limited period of time at December's exchange rate before the Swiss franc shot up.