Merkel condemns Ukraine fighting on Hungary visit
By Nick Thorpe
BBC News, Budapest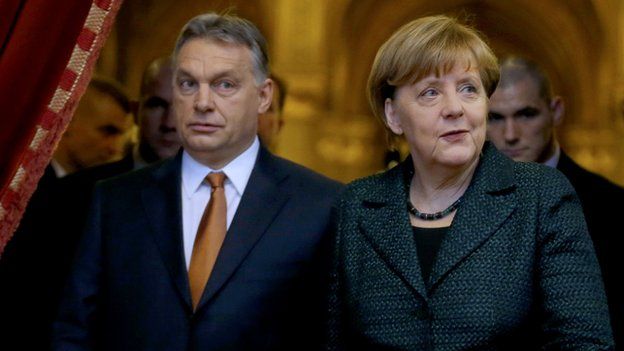 German Chancellor Angela Merkel has urged a ceasefire in Ukraine, saying there can be no military solution to the conflict between the Kiev government and pro-Russian rebels.
"Germany will not support Ukraine with weapons," she said in Hungary.
"We try to solve or at least mitigate this conflict by using all possible diplomatic means and negotiations."
Mrs Merkel said "this conflict cannot be solved militarily".
She was speaking at a joint news conference with Hungary's Prime Minister Viktor Orban, who also ruled out sending weapons to Ukraine.
Mr Orban is opposed to the EU sanctions imposed on Russia over its support for the separatist rebels.
Russian President Vladimir Putin will also visit Hungary on 17 February, followed by the Turkish, Georgian and Nato leaders soon after.
Domestic critics of Hungary's conservative Fidesz government looked to Mrs Merkel to attack Viktor Orban for what they see as his narrow view of democracy, in which the winner takes all.
She fulfilled their wishes, carefully and elegantly. Asked by a reporter to comment on Mr Orban's 2014 espousal of "illiberal democracy", she replied that this was not a concept she could begin to understand.
Later, addressing students at the German-speaking Andrassy University, she went further. Governments should treat a strong civil society - non-governmental organisations (NGOs) and an independent and free media - as a partner, not an enemy, she said.
Last week a Budapest court ruled that a police raid, ordered by the government last September on the environmental NGO Okotars, was illegal.
Mr Orban has been widely criticised in the EU for his authoritarian policies.
Several thousand opponents of Mr Orban rallied in Budapest on Sunday, and there were smaller numbers in many provincial towns.
Amnesty International accused Mr Orban's government of an "unprecedented crackdown" on NGOs, "including public smearing, criminal investigations, office raids and the seizure of equipment and a politically motivated audit".
A statement from the human rights group said the German chancellor should call on Mr Orban to stop "practices coined in Russia [that] are gaining currency in an EU member state".
Viktor Orban's ambitions, as well as some of his domestic policies, are bringing him into conflict with his EU and Nato allies.
The German government is reportedly furious that Mr Putin's visit follows so soon after Angela Merkel, and that it will take place in defiance of an EU decision last March, following the Russian annexation of Crimea, not to hold regular bilateral meetings with the Russian president.
But Mr Orban says Hungary's long-term contract for Russian gas supplies will run out this year. He called that situation "a big problem", with Hungary more dependent than Germany on Russian gas.
Julia Lakatos, an analyst at the Centre for Fair Political Analysis in Budapest, says Hungary currently has "a much greater voice than its size or power would indicate".
The cover of the HVG weekly shows Hungary as a seesaw with Mrs Merkel on one end and Mr Putin on the other. "Playground" reads the headline.
It's not a new story. Endre Ady, one of Hungary's best modern poets, depicted his motherland in 1905 as a "ferry-country", constantly travelling from East to West, "though preferring the return journey".