Pegida in Austrian 'anti-Islamisation' drive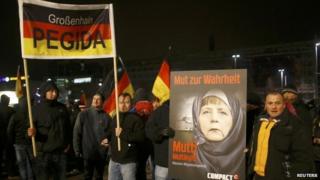 Pegida is coming to Vienna.
A march has been planned for Monday by Austrian sympathisers of the German "anti-Islamisation" group.
It is hardly an auspicious moment for the movement.
Since the Austrian rally was announced in early January, Pegida in Germany has been contending with major infighting and the loss of six of its leaders within a week.
It isn't clear how popular Pegida will turn out to be in Austria, partly because of the turmoil in the group in Germany, but mainly because Austria has a very different political set-up.
While Pegida is a new force in German politics, Austria's far-right Freedom Party (FPOe) has campaigned on an anti-immigration and "anti-Islamisation" platform for years.
"In Germany most parties never touched this issue in the last decades, but in Austria this has been well-established since the mid-1980s," says the political analyst Thomas Hofer.
"We have an important, institutionalised party which has been dealing with this one issue for years, and that affects coverage in the media and the wider political agenda."
The position has helped the Freedom Party at the ballot box. At the last elections, it gained 20% of the vote. A recent opinion poll put it at 28%, ahead of both parties in the governing coalition of the Social Democrats and the conservative People's Party (OeVP).
Thomas Hofer says the Freedom Party's "anti-Islamisation" message has grown out of its more generalised anti-migrant stance.
"Anti-Islamisation is one of the pillars of the Freedom Party right now and has been that way over the last seven to eight years, especially in Vienna."
For Austria's official Muslim community, the arrival of Pegida in Vienna is unwelcome, but not a new challenge.
"Of course there is concern, but on the other hand we are quite used to a certain segment in society that is Islamophobic, encouraged by parties like the Freedom Party," the Islamic Community spokeswoman Carla Amina Baghajati says.
The organisers of the Vienna march are believed to have links to the far-right football hooligan scene.
What is not clear is how much support they will receive from the Freedom Party.
"I'm with Pegida in my heart every week in Dresden," exclaimed the Freedom Party leader Heinz-Christian Strache to cheers, in a recent speech to the party faithful.
But he will not be taking part in the rally in Vienna.
Observers believe the Freedom Party may try to incorporate the new movement if it catches on, but that it will be up to Pegida to prove its effectiveness and popularity.
Why go out and march in the cold with Pegida, its sympathisers may wonder, when you can vote for an established party instead?