Serbia and Croatia await genocide verdict at ICJ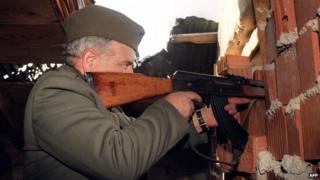 The last time Serbia was involved in a dispute with a neighbour, it won and lost at the same time.
That was back in October following the bizarre "drone brawl" which curtailed its international football match with Albania.
In a rare display of Solomonesque wisdom, European football's governing body, Uefa, awarded the match to Serbia and then docked it three points for failing to control the crowd at Belgrade's Partizan Stadium.
Perhaps the officials at the International Court of Justice (ICJ) wish they had such tools at their disposal to deal with another bizarre dispute involving Croatia and Serbia.
Friendly neighbours do not generally file genocide suits against one other, but more than two decades on from the violent collapse of Yugoslavia, rationality still occasionally gets overtaken by a wave of ill-feeling.
It is easy to understand the bitterness.
Serb forces all but flattened the town of Vukovar in 1991, displacing tens of thousands of ethnic Croats. A notorious massacre left 260 men dead.
Four years later, the Croatian military's Operation Storm bombarded the majority ethnic-Serb Krajina area, forcing as many as 200,000 people from their homes.
Croatia made its initial filing to the ICJ in 1999, accusing the Federal Republic of Yugoslavia, led by notorious President Slobodan Milosevic, of deliberately targeting ethnic Croats during the conflict at the start of that decade.
Since then, much has changed:
Milosevic went on trial for genocide at the International Criminal Tribunal for the former Yugoslavia (ICTY)
The hard-line nationalists who ran Croatia lost power to more moderate figures
Yugoslavia formally ceased to exist and a democratic Serbia emerged
Croatia joined the European Union and promised to help Serbia in its own application for membership
Relations between the neighbours seemed to be reasonably normal.
Yet the genocide suit still inched forward.
In frustration, Serbia filed a counter-suit in 2010, highlighting the suffering of ethnic Serbs in Croatia.
All this happened despite the work of the ICTY and war crimes courts in both Serbia and Croatia in prosecuting individual cases.
The genocide suits went forward at the ICJ last April and judgement is about to be rendered.
The timing is far from ideal.
The election of nationalist President Kolinda Grabar-Kitarovic in Croatia and the release on health grounds from the ICTY of Serb ultra-nationalist Vojislav Seselj have ruffled feathers on both sides of the border.
But Serbia's Foreign Minister Ivica Dacic, has said he is optimistic that the judgement will finally allow the two countries to put the issue behind them.
Croatia's Justice Minister Orsat Miljenic said he would accept whatever the court decided.
Perhaps a nil-nil draw would be the best outcome for all concerned.
---
UN 1948 Genocide Convention
Act committed with intent to destroy in whole or part a national, ethnical, racial or religious group
Killing members of the group
Causing serious bodily or mental harm to members of the group
Deliberately inflicting conditions of life calculated to bring physical destruction
Imposing measures intended to prevent births
Forcibly transferring children of the group to another group