Germany split over policy on migrants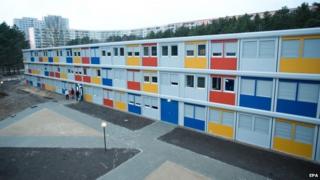 To the east of Berlin, there's a bleak clearing surrounded by concrete high-rise apartment blocks.
And behind a few windswept pine trees and a wire fence, is a three-storey metal building.
This is one of several "container cities" hurriedly erected to house the hundreds of thousands of refugees seeking asylum in Germany. Inside it's warm, bright and basic.
I join a group of local residents on a guided tour. Two middle-aged women exclaim in surprise when they are told the centre can - and will need to - accommodate 300 refugees, because asylum seekers are flooding into Germany, fleeing violence in countries like Syria.
And they are one of the reasons immigration is at a 20-year high. In 2013, net immigration stood at 429,000 people.
Welcome culture
But they are coming from other EU member states too - people looking to escape a life of poverty and unemployment in the countries of the southern eurozone.
And - officially at least - they are welcome. Germany is proud of its Willkommenskultur (welcome culture), partly because of guilt about the Nazi era. But also because the migrants help to fill a significant skills gap, created by a rapidly ageing population.
But immigration is increasingly the subject of much debate. A survey published recently in Spiegel Online (in German) reveals that while Germans can see the benefit of immigration, they also believe it strains the welfare system, causes problems in schools and creates social tensions.
It's an attitude to which German politicians, like their counterparts in the UK, France and Denmark, are being forced to respond.
Political split
Germany's newest political party, Alternative for Germany (AfD) - which campaigns for tighter immigration control - is taking voters from both Chancellor Angela Merkel's conservatives (the CDU/CSU) and their junior coalition partner, the Social Democrats (SPD).
And the Pegida movement has whipped up anti-immigrant sentiment. Its weekly demonstrations in cities like Dresden have drawn thousands - sometimes tens of thousands - of supporters.
Pegida has failed to gain much support outside the eastern state of Saxony, but it has succeeded in fuelling the public debate about immigration.
The SPD response is to propose a points system for non-EU migrants, similar to that used by Canada and Australia - and not far removed from what UKIP's Nigel Farage proposes for Britain.
The SPD's parliamentary leader Thomas Oppermann argues it could be used to set an annual immigration rate.
And, if better language and integration courses are available, he believes the German jobs market could also benefit from well-educated asylum seekers. Highly-skilled immigrants, he claims, are vital to the country's future.
A number of Social Democrats have already publicly criticised the plan, which has already been rejected by Germany's interior minister.
Thomas de Maiziere - one of Angela Merkel's conservatives - says existing laws are "sufficient to accommodate the immigrants".
But a group of young conservative politicians is also calling for a new strategy.
Policy rethink
The CDU 2017 group states that "asylum seekers, economic migrants, EU internal migrants and the highly qualified are all thrown indiscriminately into a pot.
"We need a broad public debate about the need for immigration, on the question of what kind of immigration we want, how we control immigration and limit it where necessary."
It's a headache for Angela Merkel, who has staunchly defended the EU principle of freedom of movement. She has said she'll consider the SPD proposal. But "more importantly", she said on Tuesday, "we have to look after the large number of refugees coming to Germany now".
Back in the container city, I peek into a bedroom. The single bed is made up with a blue blanket.
On the pillow there's a teddy bear in a plastic bag. It won't be long before the room is occupied by one of the hundreds of thousands of people hoping to make a new life here in Germany.