Bulgaria PM Borisov seeks to halt security turmoil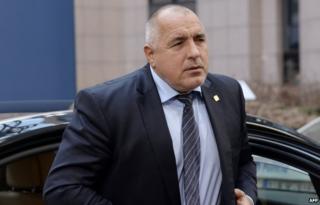 Bulgaria's parliament has approved the appointment of a new interior minister, Rumyana Bachvarova, after a week of drama in which five top officials have resigned or been replaced in the secret services and interior ministry.
The political turmoil at the heart of government has hit a country which was warned in a European Commission report earlier this year that much more had to be done to fight organised crime and corruption.
Considered one of the EU's most corrupt countries, Bulgaria's judicial system was placed under the Commission's special supervision when it joined the EU in 2007.
Its annual report in January called for a "further change in political culture and a real sense that these issues are at the top of the agenda".
The tensions at the top of Bulgaria's coalition government are, according to analysts, more about the speed of change than differences in policy.
A major challenge facing the government in Sofia is a continuing wave of illegal migrants, especially from Syria, Iraq, Afghanistan and North Africa, across the border from Turkey.
Prime Minister Boiko Borisov heads a fragile coalition of his Citizens for the European Development of Bulgaria (Gerb), which won parliamentary elections last October, and the Reformist Bloc, which depends for a majority on the right-wing Patriotic Front and the leftist Alternative for Bulgarian Revival.
Bulgaria's State Agency for National Security (DANS) was only set up seven years ago, when two other intelligence services were merged.
The original aim in 2008 had been to combine a mandate to investigate organised crime with counter-terrorism.
But a series of wire-tapping scandals and controversial appointments undermined its reputation and Boiko Borisov has twice tried to return its anti-corruption work to the interior ministry: first in 2009, and again now.
The idea is to leave it freer to deal with counter-terrorism work, says Daniel Smilov of the Centre for Liberal Strategies in Sofia.
"Bulgaria's performance [on tackling corruption] has been rather disappointing, compared with what the Romanians are doing," he told the BBC.
The junior partner in the Bulgarian government, the Reformist Bloc, has proposed that Bulgaria set up an independent national anti-corruption directorate, along the lines of Romania's model.
Both countries have been blighted by corruption. But, in recent months, dozens of former top officials in Romania have been imprisoned or fined.
"The appointment of Rumyana Bachvarova is a signal that the government wants calm, and a move away from all these tricks of the old dogs in the security sector," said Ognian Shentov, head of the Centre for the Study of Democracy in Sofia.