Brave new world for EU farmers as milk quotas scrapped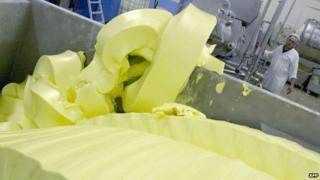 Back in the days when the EU was called the European Community, the big gripe was the butter mountains, wine lakes and milk lakes.
In 1984 European leaders decided that enough was enough - they imposed milk quotas to stop the over-production.
But dairy farmers face a new era from 1 April, free of milk quotas.
The European Commission, which enforces EU rules, believes this will not bring back those lakes and mountains. It argues that developing countries are hungry for European farmers' produce and price monitoring has improved. China especially is seen as a booming market.
Reform of the Common Agricultural Policy, breaking the direct link between food production and EU subsidies, has also helped reduce the surpluses.
---
---
Globalisation
So how do dairy farmers feel about the looming hot blast of global competition?
David Cotton has a herd of 230 cows in Glastonbury, western England. He told the BBC that milk quotas had "stopped Europe being such a big player globally" in the dairy sector.
"Less interference is better, because the market can sort itself out".
"The predictions say that demand will outstrip supply over the next few years," he said, while acknowledging that New Zealand, the Republic of Ireland and the US could become even bigger competitors for British producers.
The challenge is to innovate more, he said - for example, with distinctive cheeses or sports drinks. "Traditionally in the UK we relied on liquid milk, but it's no longer a premium market, as milk is a commodity rather than a brand," he said.
The quotas apply to cows' milk - not sheep or goats' milk, which form a tiny share of the EU dairy market.
Fay Jones, representative of the UK National Farmers' Union (NFU) in Brussels, says the NFU welcomes the lifting of quotas, as British farmers have not overshot the EU limits anyway.
It is not the quotas but other problems that have hurt British dairy farmers, she says - the bovine TB infections, for example, and the gap between farmers' costs and consumer prices.
Safety net
Dairy farmers often struggle with price volatility, and the European Commission says quotas have not made their lives easier in that respect.
The prices paid to dairy farmers rose 13% in the first half of 2014, yet the corresponding consumer prices rose 8.4% in Germany, 1.6% in the UK and 0.8% in France.
It has taken years of tough negotiations to get to this point - and the Commission says there will still be a safety net for dairy farmers.
An EU Milk Market Observatory has been set up to help producers adjust to price fluctuations.
Fay Jones says that "if states input the data, then we can get the transparency the sector needs".
Certain EU market interventions will continue - for example, coupling EU payments to production in certain regions where small farms might otherwise go out of business.
The NFU and European farmers' federation Copa Cogeca also want the EU to raise the price at which it intervenes in the market, so that it is closer to the cost of production, and consider creating a dairy futures market as an insurance scheme for farmers, Ms Jones said.
Lifting quotas will remove the burden of policing "superlevies" - the EU fines imposed on farmers who exceed their quotas. Irish dairy farmers face some €75m (£54m; $81m) in fines this year.
---
Top EU cows' milk producers - 2013 (millions of tonnes)
Germany - 31.3m
France - 24.4m
UK - 13.9m
Poland - 12.7m
Netherlands - 12.4m
Italy - 11.3m
---
Emerald isle
Suzanne Campbell, a leading Irish food and farming journalist, told the BBC that happy Irish farmers were preparing "quota parties" to celebrate the new era, as they had surpluses to sell.
"At midnight the milk trucks will be parked outside the farms with very high volumes [of milk] - already more drivers have been employed," she said.
Ireland exports 85% of its dairy produce. Ms Campbell said China is a big market because of its middle-class's increasing appetite for Western food.
Powdered baby milk is a big part of that Irish success story and Ireland plans to boost dairy production by 50% in the next few years.
Quality logos are part of the national branding effort to compete globally. The UK has the red tractor symbol, while Ireland has Origin Green - a mark of sustainable farming.
There could be stronger competition from low-cost farms in Eastern Europe, Ms Campbell said, but Ireland has "a different pitch, a high-quality message".