Migrant crisis: Europe gears up to seize smugglers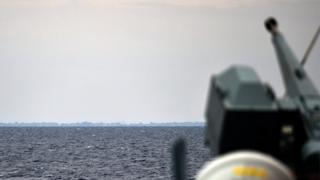 Opposite an orthopaedic centre, a pizzeria and a shop which sells moulded plaster fittings, stands the Centocelle airbase.
This base in the eastern suburbs of Rome is now the command centre of the EU's anti-smuggling mission in the Mediterranean.
The mission is known as Operation Sophia, named after a child born on a German rescue ship. Its operations began on 22nd June 2015.
For the past three months, Italian Rear Adm Enrico Credendino has co-ordinated the surveillance of routes used by smugglers to take migrants and refugees by boat from Libya towards Italy and Malta.
So far this year, more than 130,000 migrants and refugees have made it to Europe in this way. More than 2,700 have drowned - making this the most dangerous migrant journey in the world.
The surveillance phase of the EU's mission now gives way to what's described as a second, more active phase: the disruption of the smugglers' journeys.
"We'll be able to board, search, seize vessels in international waters, [and] suspected smugglers and traffickers apprehended will be transferred to the Italian judicial authorities," the EU's foreign policy chief Federica Mogherini explained in September.
Rear Adm Credendino, the mission commander, will have six EU warships at his disposal: an Italian flagship, two German ships, one French and one Spanish ship and a frigate from the UK - HMS Richmond.
EU migrant boat seizures 'won't stop crime gangs'
What is next route for migrants?
The limits of the EU's mission are obvious. Its warships will have to stick to international waters - meaning that they will have to stay 12 nautical miles away from the Libyan coast.
It's not immediately clear whether or not six warships, together with support helicopters and drones, will make a practical difference to the number of journeys begun by smugglers and migrants.
On some days, around 20 migrant ships set sail from the Libyan coast.
The EU eventually hopes to move to a third, more aggressive phase of its operation - by operating within Libya's own territorial waters. But this will only be possible with the approval of either the UN Security Council or Libya itself.