Migrants face grief and illness on Greek island of Samos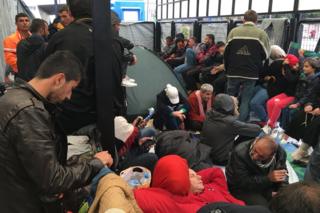 The coastguard headquarters in the port of Samos is crowded with UN aid workers, Red Cross staff and an Arabic translator.
It's early morning and they're trying to find a hotel for Jamil, a 32-year-old Syrian in borrowed clothes, who sits shivering and expressionless.
Two hours earlier he had been swimming to survive in the Aegean Sea, after the smuggler's boat he was on capsized.
The 30 on board included Jamil's two young sons and pregnant wife.
Migrants in another boat spotted and saved him, but his family are among 13 still missing. Patrol boats and a helicopter are searching.
Jamil will wait in Samos for news. He's too numb to give many details to the translator.
The coastguard staff are becoming used to the sight of grieving families. More than 30 people have drowned here this year, with many more classed as missing or presumed dead, which now includes Jamil's family and 10 others he travelled with.
Three Greek patrol boats operate nightly around the shores of Samos. In recent weeks there has been a surge in arrivals. More migrants have fled here from Turkey than to any other island except Lesbos.
Thunderstorms, continuous rain and flooding are now lashing the island, but there is no sign of a let-up in terms of numbers.
In September, around 8,000 migrants crossed from Turkey to the Greek islands per day. That figure has risen to 9,000, according to the UN.
Around 1,500 a day reach Samos.
'Things will get worse'
Once migrants arrive they are bussed half an hour through mountainous roads to the capital, Samos Town.
Those describing themselves as Syrian are separated and wait in fenced areas close to the ferry port. They wait for up to three days to obtain registration papers, and then head to Athens.
For non-Syrians the average wait is 10 days. They are kept behind barbed wire fencing in an old military base.
There is only space for 200, but more than 1,000 are here. Those who can afford it stay in hotels.
Aid workers say both camps suffer from poor conditions. Volunteer medic Eva Stevens told me poor sanitation and a lack of cleaning facilities were causing major health problems.
"We are dealing with a lot of virus infections because it's too overcrowded and [due to] bad hygiene issues. [There is also] flu, diarrhoea, skin conditions," she said.
"We're trying to do what we can, but with the weather getting worse, things will worsen here too."
One factor helping the authorities is the transience of the population here, though that will soon change.
Part of the EU plan to stop migrants taking the Balkan route through Europe is to support Greece and Italy in processing and screening all future asylum seekers.
That process has started in Italy, and is being tested in Lesbos this week.
Samos and four other Greek islands are due to open more permanent reception centres by the end of November. But officials here are worried about how their tiny island will be affected when vast numbers of migrants are no longer just passing through.