EU migration deal with Turkey is fraught with risk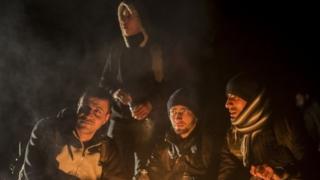 Europe's leaders have been desperate to slow the flow of humanity on to the shores of the EU, and at first glance Turkey appears to be the clear winner in a deal agreed at a summit in Brussels.
The EU will pay an "initial" sum of €3bn (£2.1bn) towards the cost of Syrian refugees residing in Turkey, there will be renewed momentum in EU accession talks, and for 75 million Turkish citizens there is also the apparently real possibility of visa-free travel to Schengen countries by this time next year.
But can Turkey help? This year alone, 738,465 migrants and refugees have landed on the Greek islands, according to the UN refugee agency.
In a practical sense, it is possible. In Izmir, on the western Turkish coast, groups of migrants have been clearly visible on the streets, organising their trips with people smugglers - in broad daylight - virtually under the gaze of Turkish police.
This could change quickly and, as if to prove a point, Turkish police rounded up 1,300 migrants and smugglers on Monday, in a co-ordinated operation around Ayvacik - a well-known departure point for the Greek island of Lesbos.
While police might be able to slow the numbers, Turkey's coastline is long and that operation has not stopped boats arriving in Lesbos.
The deal has plenty of critics.
Guy Verhofstadt, leader of the Liberal group in the European parliament, voiced a common complaint, calling the deal an attempt to "bribe others to provide solutions for us."
Sending migrants back
The European Commission argues the money is for Syrian refugees in the care of Turkey rather than the Turkish government.
And the potential for visa-free travel is dependent on Turkey both reducing all irregular migration and implementing an EU-Turkey re-admission accord that means anyone thought unlikely to be given asylum would be returned to Turkey.
There are currently some 3,000 migrants trapped at Greece's border with Macedonia. Among their number are Iranians, Pakistanis, Somalis and Moroccans. All of them would be sent back to Turkey under the agreement, the Commission says.
Turkey and Greece already have such a deal but out of nearly 9,000 Greek requests for readmission, just eight people were taken back by Turkey between January and September. That shows how much work needs to be done.
Risk of Turkish backlash
So will Turkey fulfil its end of the bargain?
Certainly President Recep Tayyip Erdogan would relish achieving the long-sought goal of visa-free travel for all.
But even if the European Commission recommends visa liberalisation next year, there is a strong possibility member states will object. France, by then in the midst of a presidential election cycle with the far-right National Front riding high, might well be in the vanguard of countries blocking the deal.
Sinan Ulgen, from the Carnegie Europe think tank, warns of the risks ahead: "Ankara is selling this package domestically as the way forward to the milestone of lifting of visas. If the EU doesn't deliver there will be a backlash."
If that backlash led to collapse of the the re-admission deal and border policing being relaxed, everything would be back at square one.
This deal is fraught with political risk, with the EU turning a blind eye to an increasingly authoritarian government that only last week arrested two leading journalists.
Critics say that when it comes to Turkey the EU is prepared to gloss over the rule of law, democratic standards and freedom of the press - some of its fundamental principles - in exchange for short-term help.
And even if migrant numbers do drastically fall, in the longer term leaders recognise that hundreds of thousands of desperate Syrian refugees will continue to flee the conflict in Syria.
---
Solving the migrant crisis
No grand bargain for EU and Africa
Migrant crisis in graphics and charts
Merkel's future rests on solving migrant crisis
---
German Chancellor Angela Merkel wants the leaders of several other EU states to agree to resettle 400,000 refugees if the deal works out, according to one German newspaper report.
Such a proposal is unlikely to win support across the EU but Mrs Merkel has led the way on this issue from the start and needs a long-term strategy.
An EU official said that while specific figures were not being considered the idea was being discussed ahead of December's EU summit and was welcomed by European Commission President Jean-Claude Juncker.
For the moment, Europe's leaders will gamble on the success of a shaky deal that largely depends on a somewhat unreliable partner.