Is EU's Schengen border-free dream at an end?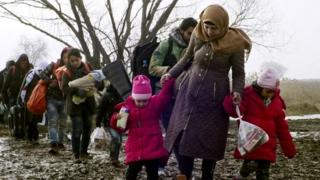 The ability of Europeans to travel freely the length and breadth of their continent, from Bordeaux to Bratislava, Stockholm to Sicily, has been hailed as "Europe's biggest achievement". But is it an achievement in peril?
No matter whether it's for work or pleasure, study or sunshine, whether it's people or products flowing east and west, north and south, freedom of movement is the lifeblood of Europe's union.
However, the arrival of more than a million people in the past year, many of them refugees, with all the challenges, political and practical, that brings, is straining Europe. And it has led to suggestions that Europe's borderless zone could vanish.
Most of the new arrivals have come through Greece, sitting as it does on the edge of the passport-free Schengen area.
Greece has been told by the European Commission that it's failing in its duty to protect Europe's external frontier. And European leaders have warned that there are just weeks to "save" Schengen.
So are the borders about to go back up?
---
Europe's Schengen states
EU's Schengen agreement explained
Migration crisis in maps and graphics
Migrants feel chill as Europe tightens border checks
---
In response to the refugee crisis, half a dozen countries already have varying degrees of temporary border controls.
The toughest are between Sweden and Denmark, where all travellers have to show identity documents.
Elsewhere, such as between Germany and Denmark, Austria and Germany, Slovenia and Austria, people still flow freely, although police do spot-checks looking for migrants and smugglers and stop random travellers.
But there are 26 nations in Schengen, so for the vast majority of Europeans travelling around their continent, at present, there's little change. It's only along the route taken by refugees heading north through Europe that checks are in place.
The evaluation that Greece is failing was based on visits to the islands of Chios and Samos last November.
Commission inspectors found "there is no effective identification and registration of irregular migrants".
"Fingerprints are not being systematically entered into the system and travel documents are not being systematically checked for the authenticity or against crucial security databases," they said.
However the issue isn't just about security and screening. It's also about numbers. From the start of January to now, more than 45,000 refugees and migrants have crossed in boats from Turkey to Greece.
The prospect of many more coming this summer is what's worrying the countries they head for, primarily Austria, Germany and Sweden.
Germany's Chancellor Angela Merkel told an audience on Tuesday "we must find a level of balance and we should not become pessimistic too quickly". But she said the number of refugees had to be reduced significantly.
Greek 'quarantine'
So it's likely Greece will now be given until mid-May to get to grips with the influx of people to its islands. And the timing is crucial.
Mid-May could be when a summer surge of refugees reaching the EU is starting to peak. The temporary border controls which countries like Germany have in place will be due to expire.
To prolong the controls, governments will need an official assessment by the European Commission that Greece is still failing.
The Commission has made clear that under Article 26 of the Schengen Borders Code it could then "recommend that one or more member states reintroduce border controls at all or at specific parts of their internal borders as a matter of last resort, to protect the common interest of the Schengen area".
So the controls may still endure. But they can only happen where there is an identified threat. That's only likely to be along the same borders that currently have them, unless the refugee routes move.
Some countries have suggested Greece itself could be quarantined apart from Schengen.
Slovenia has urged other EU countries to provide "direct assistance" to Macedonia to prevent those who don't qualify for refugee status from leaving Greece to head north.
Desperate people
Several countries including Hungary have sent border guards to help with this. But the European Commission has made clear there is no plan or mechanism to isolate Greece or suspend it from the Schengen agreement.
The Athens government argues that it would be illegal to turn back boats full of refugees. There's little it can do without help from Turkey.
Belgium's Migration Secretary Theo Francken this week suggested camps could be built in Greece to hold up to 300,000 people who'd be processed and granted asylum or deported.
But just last year Greece's government emptied its existing camp as the country had neither the money, the capacity nor the desire to keep desperate people behind barbed-wire. Migration Minister Ioannis Mouzalas says Greece has no desire to "become a cemetery of souls".
Further north, the EU's richer countries recognise their obligation to provide asylum to those who need it.
But the countries that have taken the most arrivals don't want to see the numbers soar again this year. It leaves them with the option of toughening Europe's welcome and hardening Europe's borders to migrants and refugees.
So while the EU's citizens may still be able to travel relatively freely, those fleeing war and persecution and those seeking a new life in northern Europe, getting from Athens to Aarhus, Lesbos to Leipzig is likely to become ever more arduous.
A note on terminology: The BBC uses the term migrant to refer to all people on the move who have yet to complete the legal process of claiming asylum. This group includes people fleeing war-torn countries such as Syria, who are likely to be granted refugee status, as well as people who are seeking jobs and better lives, who governments are likely to rule are economic migrants.