Greeks stage 'necktie revolt' in fight for their pensions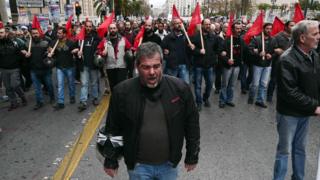 Much of Greece ground to a halt on Thursday in a general strike billed the biggest yet by trade union leaders.
Schools stayed closed, some hospitals were reduced to emergency services and public transport only functioned to bring people to and from protest actions.
Farmers have threatened to make the paralysis permanent with road blocks across motorways and border crossings, if the leftist Syriza government does not scrap its pension reform programme.
Commentators have described the current strike action as the biggest challenge so far to Prime Minister Alexis Tsipras's government after a year in power.
Ferries remained in harbour, stranding migrants on the Aegean islands after their perilous crossings from Turkey.
On the fringes of a peaceful march of 40,000 people on the parliament in Athens, masked youths taunted riot police with petrol bombs, and police responded with teargas.
In Thessaloniki, 16,000 people marched against the government's plans.
"I have to choose between paying my national insurance, or paying for my daughter to continue her studies to become a nurse," said Dimitris Kotsonis, 52, a striking taxi driver.
He likens the past seven years of recession to the Greek myth of the Danaids, the 49 daughters of Danaus condemned for killing their husbands to forever filling a leaking urn with water.
---
Tsipras's pension challenge
Alexis Tsipras's government has to make €1.8bn in savings through pension reforms under the terms of the bailout
He has promised to increase social security contributions rather than cut pensions
He wants a minimum basic monthly pension of €384 and an upper limit of €2,300
Greece spends almost 15% of its economic output on pensions, more than any other country in the OECD
MPs are set to vote on the reforms by the end of February and Syriza has a tiny majority
---
Within earshot of the Athens demonstration, a negotiating team from the "quartet" - the European Commission, IMF, European Stability Mechanism and European Central Bank - held tense negotiations, first with the finance ministry, then the labour ministry.
Last July, Mr Tsipras's government agreed a third bailout with international lenders, worth up to €86bn (£66bn; $96bn).
The quartet are in Athens to review the fiscal measures required to keep payments on track.
Speaking in Hamburg, German Finance Minister Wolfgang Schaeuble suggested that it might have been preferable for Greece to have abandoned the euro in 2011, rather than suffering what he called "this endless painful process".
Besides farmers and blue collar workers, white collar workers including lawyers and dentists also joined Thursday's protests, prompting some media to dub it the "necktie revolution".
"In the name of social justice, this government is solidifying the injustices of the past, and creating new injustices for the future," warned Eleni Panagiotarea, a research fellow at the Hellenic Foundation for European and Foreign Policy.
The government argues that it is redistributing what is left of Greek national wealth to the most vulnerable.
"There are two problems with that. There is no definition of who are the most vulnerable and how they might benefit. And there is no definition of the rich," said Ms Panagiotarea.
Labour Minister Giorgos Katrougalos did not rule out looking again at the government's proposals.
"We are in parallel negotiations with the society on the social security reforms," he said.
"There could be further changes."