French Socialist government's rifts laid bare by Aubry attack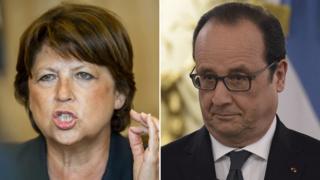 "Sometimes there are truths which are disagreeable to articulate, but the time has come. Enough is enough."
So begins a devastating attack published in Le Monde this week against the government of President Francois Hollande.
The article is not the work of the president's enemies on the right. It comes from within his own Socialists. The lead signature is that of the respected former minister, now mayor of Lille, Martine Aubry.
Never before have the latent divisions inside the ruling party been so cruelly exposed.
Ms Aubry and her co-signatories list one by one the government policies which over the last four years have had them seething.
There was the so-called responsibility pact, under which businesses got relief on social charges in return for taking on new workers - "a fool's bargain," apparently.
There is the constitutional row over stripping terrorists of their nationality: a betrayal of French values, they claimed.
Two weeks ago there was the "indecent" speech of Prime Minister Manuel Valls in Munich, in which he implicitly criticised Angela Merkel for encouraging refugees.
"No," says Martine Aubry. "Madame Merkel is not naive - she has not endangered Europe, she has saved it."
And now there is the new left-right battleground: a reform to France's labour laws which Mr Valls and his liberal Budget Minister Emmanuel Macron want adopted in the spring.
For Ms Aubry and the others, this is the last straw.
Clearly inspired by reforms undertaken in other EU countries, the Khomri law (named after Labour Minister Myriam el Khomri) would make it easier for companies to lay off workers for economic reasons, and loosens rules on working times.
"What will remain of the ideals of socialism when day after day we have undermined its founding principles?" the critics lament.
What we are seeing here is a growing polarisation within the Socialist camp.
On the one hand Messieurs Valls and Macron believe the left can only be saved by moving to the right. It has to claim for itself ideas on security and the economy which are accepted with little argument in other EU states.
But this is forcing a backlash in a large chunk of the party, and not just among the usual suspects on the left - the so-called "frondeurs".
Martine Aubry is vital here, because she is seen not as a fringe player on the left, but as an alternative centre. Back in the Socialist party primary in 2011, she vastly outranked Mr Valls and came second only to Mr Hollande.
Which brings us to the president.
Perhaps most noticeable of all in the debate is the absence of the man who is theoretically in charge.
Mr Hollande has always been known as a "synthesiser" - a politician who takes two opposing views and then melds them into a third.
That knack helped him gain power, but in office there has been no guiding principle. He tacks as circumstances dictate.
Now, as next year's elections loom, the conviction politicians, who have always secretly despised the president, are making a comeback.