The Loop: Box babies, and missing home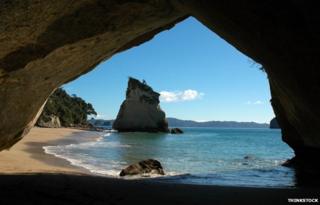 Welcome to The Loop, the Magazine's letters column, including the best of your thoughts on Twitter and Facebook.
It was a story about a small cardboard box which has been the centre of attention this week. Millions of people have read the story - but it's the contents of the box which proved really interesting: Finnish babies.
The boxes are handed out to the mothers of all newborns in Finland. Regardless of the parents' status, the boxes are all the same. As well as inspiring a wave of admiration for a low cost but effective programme, there was quite a bit of envy too - tweeters from many countries asked why they couldn't have the same. "Such a simple, yet brilliant, idea," tweeted Faye-chan from Toyko
Some people went further still. In fact Pekka Isosomppi from the Finnish Embassy in London said: "We just got the first request here at the embassy from a British person wanting to buy a Finnish baby box."
On the BBC News Magazine Facebook page, we asked which one item any new parents would appreciate being included in the box.
"A housekeeper," wrote Jen Littlejohn
"A beer," wrote Jon Wade
"A nanny," concurred Richard Mole
If the story made any dislocated Finns homesick, they're not alone. The move of Jesus Navas to Manchester City - and the discussion of adult homesickness, of which he is a sufferer - struck a chord with many of the expatriate readers of the Magazine.
Kaoru, who is Japanese but living in the UK, tweeted that the "surprising homesick trigger for me is the sound of cicadas".
Simon Ragoonanan, who is British but living in Wellington, New Zealand, said in our article that he had felt yearning for home. "Weirdly, the most homesick I think I've been was during the 2011 England riots." Times columnist Sathnam Sanghera tweeted in response: "Lesson: never move to New Zealand." Cheeky.
Manuel De La Mare, however, puts the other side. "OK, I'm the opposite..." he writes. No missing home for him. And there's neither tea nor sympathy from Yanko Tsvetkov in Spain: "OK people, seriously! Extreme homesickness a real condition? Sounds like spoiled first world caprice. "
In the Monitor on Tuesday, our own Jon Kelly wrote about the appeal of long words after German dictionaries excised a word meaning "law delegating beef label monitoring". How will they cope? This monitoring is an important business, after all.
#Rindfleischetikettierungsueberwachungsaufgabenuebertragungsgesetz we tweeted. "That's easy for you to say," said Allan Colcombe. And Richard Crowson was not perturbed. "I don't care," he said. "I fully intend on using this with Words with Friends #alwaysinourhearts."
Johan Wiesner from Pretoria emailed using the form on this page to say: "How about this Afrikaans word: 'Skoenlappervlerkversamelaarsverenigingeeu [deep breath] feesvieringskompetisieuitslaebekendstellings [nearly there] geleentheidsadjunkvoorsittersafsluitingstoespraak' - a 'mere' 134 letters if I counted correctly. Now there is a word to be beaten in any language. Literally translated the word means something like: the Butterfly Wing Collectors' Association's centenary celebration's competition's results announcement function's vice chairman's closing speech."
We're not sure if we believe him. Maybe he's just being creative with his vocabulary. But on this occasion we'll let it pass, mostly because we're now distracted by the creativity of fellow reader Hannah Greenfield.
She wrote this on her blog Can I Have A Go : "Today, I read an interesting article on the BBC about how children write things. They had a section about how children make up words, and in this section was the 'Dulbodogfragonaffe'. This was described as a creature that was a 'very big animal with the head of a duck and the mane of a lion. The neck of a giraffe and the body of a horse. The wings of a bee and the front legs of a dog. The back legs of a from and the tail of a dragon. The spikes on its back of a hedgehog and the ears of a rabbit. All over it is an orangey-pinky coloured.' This inspired me, so I attempted to draw it on paint. I did miss out however, the part about the entire thing being 'orangey-pinky coloured' - this is just because I am not very good at shading at all, so I kept the animal parts in the animal colours. Enjoy."
Other forms of creativity, like getting your smartphone to take your own portrait (what is known as a #selfie), are not encouraged by student Matt Jones.
"@BBCNewsMagazine you should not be encouraging this, *smacks nose* bad," he says. Apologies. But next time if you want to indicate a gesture, why not send a photo too? (Always remembering to make sure it's not your password gesture.)
Verbatim
And finally in our collection of verbatim emails comes this from Chris of London.
"Could the BBC please stop using 'ATM' to mean "cash machine"? It's all over the place: the most recent article Bank card thefts 'soaring at ATMs', for example. ATM is an initialism meaning 'Automated Teller Machine'. Teller is an American word which means 'cashier' - however it is not (generally) used in the UK - except to refer to those who 'tell' stories. So could we please just refer to these machines as normal people do: cash machines, instead of attempting to sound American."
Sure thing, buddy. And then this from Ed Loach of Clacton, who gets extra kudos for remembering.
"While reminiscing about teal I stumbled across this and realised the Magazine is 10 next month... How time flies... "