Tweets of the week: Edward Snowden, Hillary Clinton and Yeezus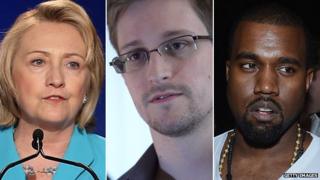 For the week ending 14 June, here is the news making waves in America - all in 140 characters or less.
1. I did not inhale, I did not have sexual relations with that woman, they did not have direct access to our servers.
Emily Bell (@emilybell) of the Columbia University journalism school compares the denials surrounding the massive leak of confidential intelligence from former NSA employee Edward Snowden to another matter under a Democratic administration.
2. So far, the person who has lost the most privacy as a result of these NSA programs is Edward Snowden's girlfriend.
At the same time, the twitter user known as Southpaw (@nycsouthpaw) noticed that the woman dating Snowden, whose blog and online photos have been widely publicised, seems to be paying for her paramour's actions.
3. At this point there should be some article everyone can CTRL+V when Trent Franks says something.
Slate writer Dave Weigel (@daveweigel) got fed up with media coverage of Arizona Republican Congressman Trent Franks who, defending his measure to ban abortions after 20 weeks without exception for rape and incest, claimed repeatedly that rape rarely results in pregnancy.
4. Before there was Twitter, the only way to register your blind, unfocused rage against a Clinton was to impeach them.
Internet humourist @pourmecoffee saw a clear benefit in Hillary Clinton's debut on Twitter this week. At the end of the week, Clinton, who in her bio describes herself as a "glass ceiling cracker" and "hair icon", had garnered half a million followers and tweeted twice.
5. So three Iranian presidential candidates walk into a bar. We're waiting for the Supreme Leader to issue the punchline.
The day before Friday's Iranian presidential vote, blogger Karl Sharro (@KarlreMarks) pointed out that Supreme Leader Ali Khamenei exerts heavy control over the elections, which are dominated by conservative candidates.
6. If it's because Rupert Murdoch wants to devote himself full-time to following the Replacements on tour, I kind of understand.
New York Times culture reporter Dave Itzkoff (@ditzkoff) had a hard time getting his head around why media mogul Rupert Murdoch, 82, was divorcing his 44-year old wife, Wendi Deng.
7. Rumour: President Obama To Announce Shipment of 1,500 3D Printers to Syrian Rebels
Following Obama's announcement that the Syrian government had crossed his "red line" by using chemical weapons against the opposition, New York Daily News opinion editor Josh Greenman (@joshgreenman) had a suggestion to how the president could reconcile that with his reluctance to get militarily involved in the conflict: sending printers that, as of very recently, are able to make their own guns.
8. Supreme Court Rules it is Okay to Name Humans 'Gene.'
Twitter user Mark Campbell (@MrWordsWorth) is slightly confused by the Supreme Court's decision this week that human genes cannot be patented.
9. Pope Francis acknowledges there's a gay lobby in the Vatican. And a gay vestibule. And quite a few really gay paintings.
The newly elected head of the Catholic Church spoke at a private audience about what was once considered rumour in the Vatican: that a group of "gay Vatican clergymen had been working together to advance their personal interests". Actor and comedian John Fugelsang (@JohnFugelsang) puns on the news.
10. The internet didn't leak Yeezus, Yeezus made the internet leak.
On Friday, Kanye West's new album Yeezus was leaked and cyberspace ran amok. One might wonder, as Pitchfork columnist Brandon Stosuy (@brandonstosuy) did, whether Kanye - who refers to himself as God - or the Internet is the bigger phenomenon.
Some tweets have been edited for clarity and style.