ID check: Compliment or irritation?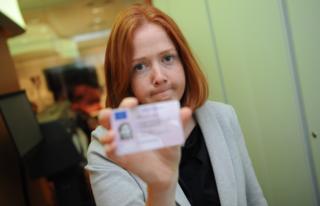 The leader of the Scottish Conservatives said getting ID'd when trying to buy a beer made her week. Clare Spencer, who even gets ID'd for painkillers, wonders why some take this inconvenience as flattery.
It came as a bit of a shock to 34-year-old Ruth Davidson when she couldn't get a beer for her colleague at a Bruce Springsteen concert. Delighted, she tweeted:
"I got kb'd for not having ID trying to buy Mundell a beer at the Springsteen gig. He's 51. I'm clearly #34goingon17 #underage"
But the steward probably didn't think she was 17. As the Magazine noted in 2010, many venues are part of the Challenge 21 scheme which means customers who look three years over the minimum drinking age must be asked for proof of ID - and some run a Challenge 25 scheme.
And, as Cumbria's News and Star reports, a licensing panel review can enforce a Challenge 30 policy. Perhaps Davidson only looks four years younger than she is. Not to be sniffed at. Unless she really wanted that beer she couldn't buy.
That inconvenience is noted by 29-year-old fashion writer Carrie McAdam. She's asked for ID nine out of every 10 times she's in a supermarket. On one trip to Asda, she had to fetch her dad from the car "like a teenager" when she was refused alcohol.
She now carries her passport all the time. "I worry one day I might lose it and won't be able to go on holiday."
The only time she doesn't get ID'd is when she's with her fiance. "He has a beard so that must make a difference."
As someone who is ID'd often, I have never found it anything other than an inconvenience. I don't just get asked for ID when buying alcohol. At 25 years old I was filling up with petrol. The attendant patiently explained you had to be 16 or older.
In October, I was asked for ID when I tried to buy Ibuprofen. I was 30. I was old enough to get the hangover but didn't look old enough to get the treatment.
Mostly, I say my real age and it must seem so ridiculous that I would lie about being 31 that they serve me. Either that or in those extra few seconds the bartender gets a look at my wrinkles.
But McAdam points out that it isn't fair to argue as it puts the person serving you in a difficult position.
So I better start growing that beard.