Paper Monitor: Dress-down Tuesday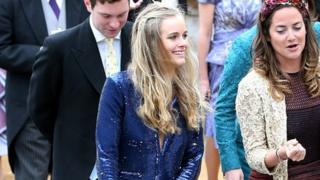 It's a tale of two outfits.
First let's get a summer perennial out of the way.
Yes, it's that time of year when Abbey Crouch (nee Clancy) goes on her holidays with hubby Peter. And what does that mean, my dear reader? It means bikini shots in the tabloids. Loads of them.
The Daily Star puts her on the cover: "Having an Abbey holiday in Ibiza. Picture Special: Page 10."
In terms of captioning, all our friends are there: "Amazing upfront", "sizzles", "lads left in the shade".
The Sun, keen not to be outdone, devotes three pages of its Biz Extra supplement to Abbey's best moments - "Nice Abs".
Meanwhile the Daily Mail prefers to focus on a potential princess.
It gives over most of page three to discuss the dishevelled look of Cressida Bonas, Harry's current squeeze.
At the weekend she wore a very smart "boho maxi dress and vintage blue sequin jacket" for the wedding of Lady Melissa Percy and Thomas van Straubenzee. But there she is arriving at King's Cross with her beau, both of them slumming it, he in his off-duty uniform of desert boots, jeans and check shirt, she in baggy trousers and shapeless jumper.
"What a difference a day makes for dress-down Cress", goes the headline.
Weird that people tailor their outfits to different occasions, isn't it?