Paper Monitor: Not *that* TMS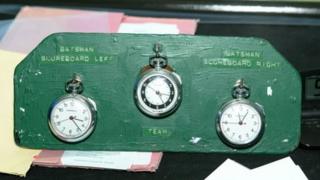 Ah, TMS, how does one love thee? Let Paper Monitor count the ways.
But not that TMS (this time). No, TMS is the newly regenerated and renamed Times Diary column, Paper Monitor's long-lost amuse bouche. (It's years since Franglais was one's specialist subject in school. Mind. Like. A. Steel. Trap.)
But it's not called People anymore. So why TMS, a trio of letters that the average Times reader no doubt associates with rambling discussions about mackerel for lunch, leg-overs (not that sort of leg-over, Aggers! Oh do stop it...) and very occasionally, cricket?
Over to new diarist, Patrick Kidd: "The TMS that tops this column refers to Thomas More Square, the current home of The Times, and is a nod to the PHS (Printing House Square) name that appeared on the Times Diary from 1966 to 1988. The initials also, of course, mean Test Match Special, home of cricket, cake and chortling since 1957."
It seems like only yesterday that your humble correspondent was sobbing silently into its scented hankie at the summary execution of previous incarnation, People, back in October 2009. Then, Hugo Rifkind - the former diarist for whom your columnist once nurtured an entirely unrequited friendship - told the Magazine: "The [diary columns] that still work are the ones that pretend to be diaries but are actually full of jokes, or full of observations, or just an excuse to run a picture of a sexy posh girl every day."
So which of these templates does the new TMS (not that TMS!) follow - and does it abide by People's unofficial motto "no chefs, no milliners, no Paris Hilton"?
There is a cake, but no reference to the he or she what baked it.
There is a photo of Emma Watson, but in Hermione Granger mode rather than slinking down a red carpet.
Why? a) this is the Times, not the Daily Telegraph and b) because the new TMS (not that TMS!) likens David Cameron to the swotty one in the Harry Potter novels: "Invited to dinner at Eton a while back, I asked one venerable beak what he remembered of the young Cameron. 'Not as clever as his brother,' was his first response, wiping plover's egg from his tie*. Cameron Major is a QC**.
"Then the teacher added: 'He was, though, about the hardest-working student I ever had. Always asking for extra reading lists and dashing off to the library. He got into Oxford on sheer hard work. Thought he'd end up as a solicitor...' So much for chillaxing***."
And then there's this snippet about the Bank of England.
"Like me, Mark Carney spent his first day in a new job yesterday**. I do hope, given the news last week that Barack Obama thinks George Osborne's name is Jeffrey**, that the Bank of England staff keep mistakenly calling their new Governor Martha*."
Welcome back, People. Gah! Sorry - welcome back TMS (not that TMS!).
*joke
**observation
***joke/observation