Paper Monitor: Patching up a prince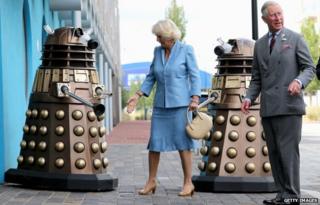 Something odd has happened. The world is fascinated by Prince Charles' running repairs.
Charles was looking round the set of Doctor Who. It's not his impression of "exterminate, exterminate" the press cares about though but the patch on his suit jacket.
The Daily Mail wonders if there was a link between the TV show and the prince's worn out jacket. "His spokesman was keen to scotch rumours that the Gieves and Hawkes suit had been caught in the crossfire from a Dalek, insisting the patch was a 'temporary repair' that would be 'repaired less visibly in due course'."
As the Times pointed out, this didn't explain why the prince wore the suit in the first place. "As befits someone struggling to get by on £20 million a year, the Prince of Wales does not spend good money on a new suit just because the old one has a hole in it."
Charles once told Vogue that "the older some things are, the more comfortable and familiar they become".
The paper notes that he owns a pair of shoes made from bales of leather salvaged from an 18th Century wreck. "They will see me out," the prince said.
It's all gone a bit "battered chic".