Caption Challenge: A horse, a horse...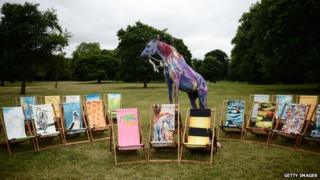 Winning entries in the Caption Challenge.
The competition is now closed.
This week, it's just an ordinary day in Hyde Park - except that there is a horse that has been done up to match a deckchair designed by musician Ronnie Wood.
Thanks to all who entered. The prize of a small amount of kudos to the following:
6. Rob Falconer:
Richard III did in fact get what he wanted, as further excavations at a Leicester car park reveal.
5. Brian O'Donnell:
"I wonder where they got the glue for these deckchairs."
4. Kat Murphy:
"Tesco will never find me now."
3. Lin Vegas:
The V & Neigh.
2. Barry Solomons:
Police horse regrets nibbling porridge oats seized in drugs raid at Glastonbury.
1. Dry Boak:
Are you feeling OK? You've neigh colour about ye.
Full rules can be seen here
[16KB]