News tweets: Jay-Z, Andy Murray and the royal baby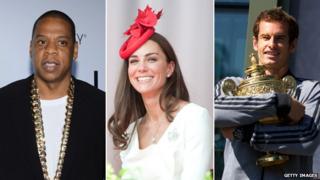 For the week ending 12 July, here is the news making waves in America - all in 140 characters or less.
1. Seems that the military's road map in Egypt is stuck in the legendary Cairo traffic. That's what happens when you use wrong metaphors.
After the ouster of President Morsi, Egypt finds itself in a political deadlock, which didn't seem to surprise Middle East blogger Karl Sharro (@KarlreMarks) .
2. Jay-Z says he texts with President Obama. @pmharper sends handwritten fan letters to Chad Kroeger. #Probably
Canadian comedian, writer and actor Pete Zedlacher (@zedlacher) doesn't think that his country's prime minister has quite the same cultural cache as US President Barack Obama, who, according to Jay-Z, sends SMS messages to the rapper. Zedlacher instead envisions Stephen Harper sending snail mail to the lead singer of the Canadian band Nickleback.
3. You got to think David Petraeus is looking at these polls and saying "I quit because why now?"
With political exiles Anthony Weiner and Eliot Spitzer both making strides in New York state elections, Slate political reporter Dave Weigel (@daveweigel) wonders if Petraeus, who resigned his post as the head of the CIA over an extramarital affair, is regretting his choice.
4. My stepdad was eaten by a shark in my living room so this hits close to home for me.
While Twitter ran amok with users' comments on the made-for-television movie Sharknado, in which a tornado full of sharks terrorises a town, Mashable's Steve Amiri (@SteveAmiri) wanted to point out that not everyone is laughing.
5. New article says Thom Yorke's voice is not suited for piped-in music at Chipotle, but it goes over well at restaurants for cats.
Advertising copy writer Mark Campbell (@MrWordsWorth) after an article with Chipotle's music director revealed that Radiohead clashes with the burrito restaurant's steel and industrial aesthetic.
6. Brilliant Andy Murray! If he carries on playing this well, he won't just be British, he'll be English
England's embrace of Scottish tennis player Andy Murray after his Wimbledon win is exemplified by this tweet, from comedian Ricky Gervais (@rickygervais).
7. The people betting 500 to 1 odds that the new Royal Baby will be named Hashtag...these are stupid people.
Political scientist Ian Bremmer (@ianbremmer) puts his PhD to work, examining the motivations of those who have taken long odds on the name of the newest member of Britain's royal family. The child of the Duke and Duchess of Cambridge is due to be born over the weekend.
8. Mitch McConnell says Harry Reid's anti-filibuster move could destroy Senate. Didn't mention any possible bad effects.
Comedy writer Gerald Mulligan (@GeraldMulligan1) debates the merits of the "nuclear option", a Senate rule change that would end the need for 60 votes to approve a judicial nominee.
9. What did you do in the Clinton-Bieber War, daddy?
A video surfaced this week of Justin Bieber urinating in a bucket and cursing Bill Clinton, prompting the pop star to personally apologise to the former president. It ended much more smoothly than Mother Jones reporter Tim Murphy (@timothypmurphy) had feared.
10. Can't believe Texas women didn't plan ahead and get their concealed tampon licenses before going to the capitol. #personal responsibility
Minnesota lawyer and Twitter user @lawremipsum after news broke that those entering the Texas statehouse to hear a reading of a bill introducing new abortion restrictions could bring a gun if they had a proper permit. However, due to fear of projectiles being thrown at lawmakers, tampons and maxi pads were banned.
Some tweets have been edited for clarity and style.