The Loop: Pure positivity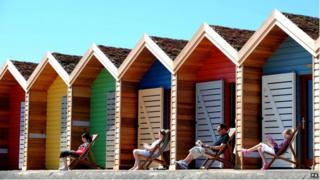 Welcome to The Loop, the Magazine's letters column, including the best of your thoughts on Twitter and Facebook.
It may have escaped your notice but we have been celebrating this week at Monitor Towers. It is a full 10 years since the Magazine was launched in a blaze of HTML, and to mark the occasion we dusted off the big guns - with 10 lists of 10 things drawn from our 10 years. So we had our first 10 articles, 10 of our longest articles, 10 of our articles about names, ethics, language, 10 quizzes etc etc. We know how to party. And your reactions were most gratifying.
Judith Evans tweeted: "Love the @BBCNewsMagazine so this greatest-hits release can't be anything but good."
But where to enjoy it, that's the question, where?
For those at the coalface at Sancus Solutions, it's clear: at work. "It's the 10th Anniversary of the BBC website magazine, helping office workers everywhere waste their lunch hour!" For Tom Pearson in the US it's "beach reading", which sounds nice, except for Laura Rawlings, for whom they were articles to "save to read on a rainy day". "Weekend reading sorted," said EJD69.
So no consensus at all, unless your office is on the beach and it's a rainy Saturday lunchtime.
Long-time reader (Long by name and long by nature) Basil Long of Nottingham emailed to say: "Gosh, with the sunshine and the tennis I almost forgot to wish you a happy 10th birthday! Welcome to your 11th year!" Thoughtful, especially as it gives an excuse to segue into talking about Andy Murray and the nature of sporting droughts. "I don't recall anyone making all this fuss when Jocky Wilson won the World Professional Darts Championship," wrote Helen Blackburn, Rosewell, Midlothian.
And William Warburton of Doune, UK, was not alone in suggesting that our list of long waits for sporting glory was missing a British winner of the Americas Cup. "One hundred and sixty two years since we lost the first race and we don't even have an entry in the current challenge."
So amid all the positivity, it was perhaps good timing for Michael Mosley to wonder what exactly made people optimistic or pessimistic. Tests indicated that Michael had a "fundamentally negative bias", and so was recommended a "short course of CBM (cognitive bias modification) and mindfulness meditation". Yeah, right. Like THAT would work.
Besides, Stevie Lloyd wrote on our BBC News Facebook page: "I am a Miserable Old Git and I love being one!" Richard Pipe piped up: "Why would I WANT to be sunnier?" And Steven Green questioned flatly: "Is it really worth it." (If this was radio, we'd have got Marvin to read that comment.)
One reason to feel positive, for us at least, was the launch of a new blog on the Magazine. It's called News From Elsewhere, and is a daily collection of stories from around the world that you are unlikely to find anywhere else on the internet. Unless you work for our colleagues at BBC Monitoring, who are experts in what the world's media is saying, and with whom we are producing this new blog. You can find it here - do let us know what you think.
Verbatim
And now time for some of your emails quoted in full. Firstly Peter Strachan Cowie from Herne Bay in Kent, reacting to our story that the 12 times table could be on the way back. (Apparently it's been away.) Peter writes:
Where did the expression "times tables" come from? When I was growing up, they were referred to as "multiplication tables".
If I am doing multiplication in my head, I find it easiest to picture the calculation as a rectangle split into four areas. The two sides are split between the tens and the units of the two numbers to be multiplied. Work out the area of each of the four pieces, add them together, and that is the answer.
Suzy from Aylesbury adds:
"The seven and 14 times tables have been very useful to me since I qualified as a pharmacist; two tablets three times a day for one month, 168 tablets in total. You can save a lot of time knowing certain values off by heart."
But David Sheppard of Romford, Kent, won't be distracted by such fripperies.
"Should I ever find a kitten on an Underground train I think I'd be tempted to say I'd found it at Barking, to see whether the same naming criterion applies."
Judith from Weybridge is sharp-eyed:
"I'm sure you'll get lots of letters referring to the nominatively determined name of Mr Hide."
Actually just yours. And last word to Andrew from Malvern, who clearly spotted the absence of The Loop last week (it had been drafted in to help out on compiling numerous birthday lists).
"I've just decided that the lack of letter pages is great. I can send the Monitor my most intimate secrets - safe in the knowledge that they will never be repeated. So just between you and me - I think it is too hot and am not fussed that Andy Murray won a trophy."