Paper Monitor: Shorts at work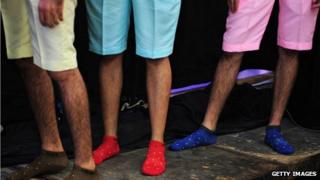 As the sun continues to beat down, the debate of the moment is whether or not shorts at work are acceptable work attire.
A debate kicked off by MP Ben Bradshaw's attendance at a champagne reception for David Miliband in a pair of shorts. The incident took place last week, but caused such ructions it is still being discussed.
For these were no tailored city shorts, but Lycra cycling shorts. Worn with a shirt - hanging out - and a pair of formal black shoes and black socks. It really does look as though the former culture secretary simply forgot to put his kecks on. A quick look on Twitter indicates that Bradshaw appears to have favoured this look for some time.
The fashion police have already had their say in the weekend papers, but the Daily Telegraph uses the incident to see how far the City has come in terms of a more relaxed, summer look.
Glenda Cooper speaks to a Savile Row tailor, who says the demand for their linen shorts has tended to be for men who live and work in "hotter climates", and that they have only had a few requests from people who wanted them for the City.
Paper Monitor is willing to bet they haven't been worn yet. Tailored shorts might be regularly seen on the catwalks of Milan, but they are not a common sight in Britain's business world.
Shorts are not mentioned in the Bank of England's dress code, says Cooper. And a spokesman at Pricewaterhouse Coopers says while the company does not have a "no shorts" policy, do not "expect to see droves of staff arriving in shorts".
So what's all that male leg waxing been for then? Perhaps there are legions of workers out there desperate to shorten their hems, but shyness is simply holding them back.
The Telegraph warms to its theme, saying in a comment column "there is nothing wrong with wearing shorts to work" and they are commonly worn in by boardroom executives in some hot countries. "In Bermuda, it is customary to wear long socks with shorts if they are to be worn as business attire."
Sounds a bit It Ain't Half Hot Mum.
And here is the Telegraph's final piece of advice: "If you are going to wear shorts, chaps, do it with a bit of style."
But steady on. As Jane Austen pointed out in Emma, "One man's style must not be the rule of another's." Just because the office dandy decides to take the plunge, it might just not be the look for you.