Paper Monitor: Right royal pseudonym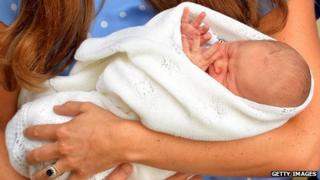 He's only three days old, but Prince George needs to choose his brand carefully.
"The baby boy destined to become King George VII," gushes the headline on the front page of the Daily Telegraph.
Not necessarily, thinks Paper Monitor. This columnist is something of an expert on royal names, thanks to this morning's offerings from Fleet Street.
The Daily Mirror has a list of previous King Georges. So too does The Times.
Therefore Paper Monitor is well aware that the new arrival's great-great-grandfather, King George VI, actually had the first name Albert.
And indeed, thanks to Robert Hardman of the Daily Mail, PM knows that Queen Victoria's first name was Alexandrina.
Then again, "the baby boy destined to be King George VII, King Alexander I of England, Wales and Northern Ireland and Alexander IV of Scotland, or King Louis I" would be a less arresting splash.
Choosing an alternative name is fraught with danger, however.
The Independent reports that author JK Rowling spent some time creating a fake autograph so she could sign The Cuckoo's Calling, her crime novel, as her pseudonymous alter-ego Robert Galbraith.
"I spent a weekend practising," says Rowling.
Of course, her efforts to cover her tracks were in vain - the book's true authorship was leaked to the press.
A salutary tale to which every future monarch should pay heed.