Paper Monitor: Silly season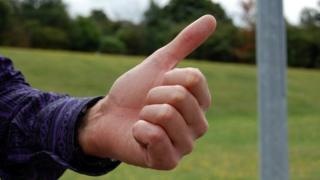 With the summer season in full swing, it's hardly surprising a few silly stories make the papers.
Today Paper Monitor is struck by a couple in the Daily Telegraph.
First up, the paper brings news that diners have been duped by a phantom restaurant on TripAdvisor.
"Floating restaurant where divers catch your supper? It all sounds a little fishy," is its headline.
According the paper, "customer" reviews on the website raved about everything from the restaurant's romantic setting, which changes location depending on the tides, to food reminiscent of elBulli, the Spanish restaurant often named as the best in the world.
But when people turned up at the fictional address, in Brixham harbour, Devon, they found themselves "in a disused alleyway full of rubbish bins".
The paper says the man behind the prank, who has not been identified, wrote the string of glowing reviews in a bid to expose the apparent failings of TripAdvisor after a friend's hotel received a barrage of criticism that he suspected was from a rival hotelier.
In the spirit of fairness, it should be said TripAdvisor say they have a team of more than 100 fraud specialists who work on maintaining the integrity of the website.
In other silly season exploits, the paper reveals - on the front page no less - that smartphone addicts can turn to "thumbell training" if they are feeling the strain of hours of texting, emailing and internet browsing.
The way to do this? With "thumbells" - dumbbells for thumbs - brought to the masses by a network provider, of course.
There's more about this "pain in the pollex" and our "most wimpish digit" in the editorial comment on page 17.
"Rippling-muscled thumbs will soon be able to kick sand into the face of the most daunting smartphone," it concludes.
Paper Monitor wonders what's on Wednesday's news agenda.