Caption Challenge: Boat head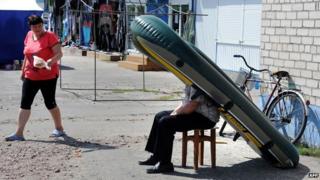 Winning entries in the Caption Challenge.
The Caption Challenge is now closed.
This week a man appears to be resting with boat on his head.
Thanks to all who entered. The prize of a small amount of kudos to the following:
6. Lin Vegas:
Passer-by: "Nice legs, shame about the Boat Race."<br /><b><i>Lin Vegas, Brentford, Middlesex</i></b><p>
5. Paul Kopal:
I can do this - canoe?
4. Ian:
Mr Hodgkiss, pictured, the 2013 Hide and Seek World Championships runner-up.
3. James Rogers:
"I think I have the wrong capsize."
2. Martin W:
"Isn't it a bit dinghy in there?"
1. Graz:
I just pulled a toggle on my puffa jacket...
Full rules can be seen here
[16KB]