Paper Monitor: Watching it over and over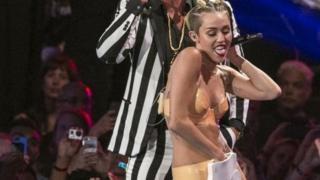 An acquaintance of Paper Monitor's who works in advertising recently said: "My boss used to hit me every time I tried to put a pun in a tagline."
No such physical admonishments are likely in Tabloidland where the business thrives on the stuff. Today's offerings:
"Cull Metal Jacket" - the Sun.Taking its readers back to Stanley Kubrick's Vietnam classic for a story on badgers.
"The Whole Luth" - the Daily Mirror. Explaining how Idris Elba's drama might be made into a movie.
"Feeling Blue" - the Daily Star. A piece about boy band Blue.
In non-pun related news, there's some lovely quotes in the Sun from a Miley Cyrus obsessive. Carl McCoid has 19 tattoos of the singer.
"It was basically porn," he said. "She should have toned it down. I've watched it over and over again and I was extremely surprised to see her doing it."
Right. Over and over again.