Caption Challenge: Hello Tyrannosaur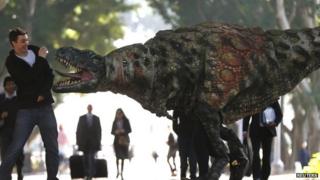 Winning entries in the Caption Challenge.
The Caption Challenge is now closed.
This week it's a person dressed as a Tyrannosaurus rex bothering another man at a publicity event.
Thanks to all who entered. The prize of a small amount of kudos to the following:
6. Rob Falconer:
Derek was most embarrassed when Security asked him to empty his pockets on leaving the Natural History Museum.
5. Frank:
"Stop hamming it up. The Jurassic park trilogy is over, films have moved on - you're a dinosaur."
4. Ahmet:
"You called that twerking, watch this!"
3. Siv Angel:
"Don't be embarrassed - nobodysaurus."
2. Martin W:
"Ugh, garlic!"
1. Simon Cleverly:
Dave was beginning to regret joining the carbon dating web site.
Full rules can be seen here
[16KB]