Caption Challenge: Hello Tyrannosaur
Your witticisms for...
... a topical photo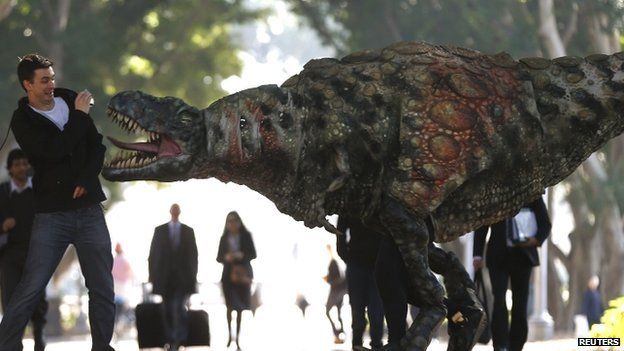 Winning entries in the Caption Challenge.
The Caption Challenge is now closed.
This week it's a person dressed as a Tyrannosaurus rex bothering another man at a publicity event.
Thanks to all who entered. The prize of a small amount of kudos to the following:
Derek was most embarrassed when Security asked him to empty his pockets on leaving the Natural History Museum.
"Stop hamming it up. The Jurassic park trilogy is over, films have moved on - you're a dinosaur."
"You called that twerking, watch this!"
"Don't be embarrassed - nobodysaurus."
Dave was beginning to regret joining the carbon dating web site.