Paper Monitor: Unsung heroes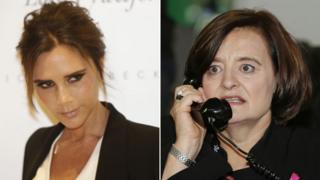 Paper Monitor has said it before and will say it again: Anyone can spraff on about geopolitics, war, economics and the great issues that grip the world.
But it takes a certain kind of journalist to go deeper.
Such a journalist is Jennifer Dunkerley of the Daily Star. For she has assembled no fewer than 22 images in which Victoria Beckham looks very slightly like Cherie Blair.
It's off the back of David Beckham saying he had a crush on the high-powered QC, former prime ministerial wife and tousled door answerer.
This link really doesn't do it much justice.
The paper version really looks like quite a lot of work. Paper Monitor tried to find just one pair of images of them looking similar. As you'll see above, Paper Monitor failed.