Now: The compilation LP celebrates its 30th birthday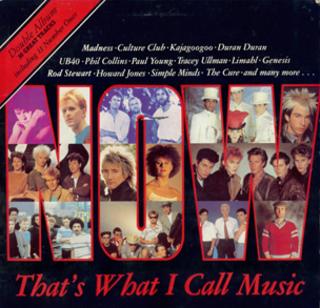 It's 30 years today since the first Now That's What I Call Music compilation LP was released in the UK. Ben Milne looks back.
The chart compilation LP existed before Now That's What I Call Music - K-Tel and Ronco had been knocking out collections relentlessly since the late 1960s, alongside ingenious products such as the veg-o-matic and the smokeless ashtray. Unsurprisingly, they weren't seen as quality brands - in the early 80s, left-wing comedian Alexei Sayle once dismissed the newly formed Social Democrat Party as the "K-Tel of politics - same rubbish, different package".
But Now That's What I Call Music was a glossier proposition. It was a double LP, it had 11 number ones according to the TV ad voiceover by Tracey Ullman - who also provided her hit They Don't Know (side four, track one). It was available on double cassette AND video cassette.
Now... was the LP equivalent of taping the Top 40 off the radio on a Sunday night, without the need to hit the pause button every time Tommy Vance introduced the next record. What's more, it was an early introduction for 80s pop kids to the principle of diminishing cost - do you buy 30 singles at £1 a pop, or a compilation LP for £6.99?
The track listing is a roll-call of that year's Smash Hits cover stars - Kajagoogoo, Culture Club, Duran Duran, Howard Jones. If you compare it with what was considered hip at the time - say, the annual Festive Fifty compiled by John Peel for 1983 - there's only one track that makes both lists (Love Cats by The Cure, trivia fans).
But Now... was never supposed to be for the hipsters, who were always snobbish about compilations - real music fans listened to all the tracks on the band's original LP. Just listening to the singles was like eating dessert before you'd finished your greens. But on reflection, that is probably the reason why the rest of the record-buying public bought Now That's What I Call Music, and its 85 successors. Just look at all that dessert.
Follow @BBCNewsMagazine on Twitter and on Facebook