Marooned at an airport... then what?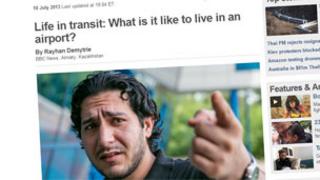 After being marooned at Kazakhstan's Almaty International airport for more than five months, as reported in the Magazine, Palestinian Mohammed al-Bahish was given refuge in Finland. But his problems are not over yet, says Rayhan Demytrie.
Mohammed now lives in a one-bedroom flat paid for by the Finnish government. Speaking over Skype from the town of Jyvaskyla, Mohammed says being able to walk out of his door at any time of the day is something he values greatly.
"I still get hysterical when I think about my time in Almaty airport, and actually my sleep has not normalised yet, I sleep only five hours a day," he says.
When Mohammed finally left the tiny room in the airport's transit area on 17 August, he was flown to a UNHCR refugee transit centre in Timisoara, Romania.
"There were lots of people from Iraq, Somalia and Sudan," says Mohammed. "About 10 people live in each room. They were fed three times a day. There was also an opportunity to go to the town centre three times a week, but the camp doors closed at 9pm and it still did not feel like you had your freedom. One Iraqi Christian whose whole family have been killed has been waiting for his case to be resolved for five years. It is driving him nuts."
On arrival in Jyvaskyla in early September, Mohammed was tested on his Finnish - which he failed - and is now waiting to start a language course in January. "I went to the labour office and they told me that without the language I wouldn't be able to find any work."
He is receiving 400 euros (£331) a month in benefits from the Finnish government. So far he has made few friends - there are only about five Arabs in this city, he says with a laugh.
Mohammed's main concern is the welfare of Kazakhstani girlfriend Olessya Grichshenko. She is now seven months pregnant, and in a few weeks she will not be able to fly. Mohammed says he can't bear the thought of her giving birth in Kazakhstan without him by her side.
"We speak on Skype, and she tells me that it hurts her to go to hospital for her routine check-ups on her own. She can see lots of couples, husbands accompanying pregnant wives, but she is by herself."
Follow @BBCNewsMagazine on Twitter and on Facebook