Will Mandela's funeral be the biggest in history?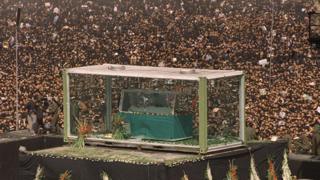 Few events can have provided quite so much political stardust as the Nelson Mandela memorial service, where 52 presidents and 16 prime ministers gathered inside Soccer City to pay their respects.
Although the stadium had empty seats, a live broadcast was beamed into three other venues, and there were more than 100 public viewing areas across the country. Between now and Mandela's burial on Sunday, thousands will line the streets to see his coffin pass through Pretoria.
Although crowd estimates should always be treated with caution, the largest funeral attendance in history is widely thought to have happened in 1969 when 15 million people reportedly took to the streets of Chennai for CN Annadurai, the former chief minister of Tamil Nadu.
His popularity was partly due to his brilliance as a writer and speaker, says Tamil expert MSS Pandian, and the fact he founded a separate linguistic identity for the Tamils by rejecting Hindi as the national language.
According to the Guinness World of Records, the highest percentage of mourners in any country came 20 years later, when one in six Iranians - about 10m - witnessed the coffin of Ayatollah Khomeini being carried through Tehran, amid chaotic scenes in which several were crushed to death.
For sheer political magnitude, there was also Pope John Paul II's funeral in Rome in 2005, when the BBC reported that about 200 world leaders were among the 250,000 people gathered in St Peter's Square. And a huge television audience estimated to be in the billions watched the funeral of Princess Diana in 1997.
In the pre-television era, if people wanted to take part they had to go, says John Wolffe, author of Great Deaths, and they brought their children and grandchildren. So more than a million Victorians turned out in 1852 for the British military hero, the Duke of Wellington, he says, at a time when London was growing and the railways could bring people to the capital from a long way away.
But Wolffe senses the pendulum has now swung back, with people less satisfied by virtual participation and much keener on being there. "Observance has become a spectacle in itself."
Follow @BBCNewsMagazine on Twitter and on Facebook