Polar vortex: How to survive extreme cold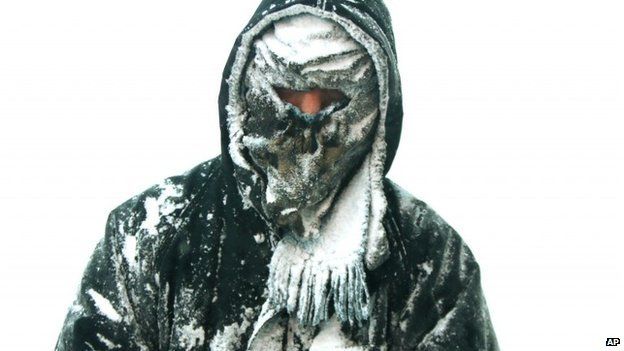 An Arctic freeze has been sweeping across North America, bringing temperatures as low as -40C (-40F) with wind chill in some cities. What are the risks of extreme cold and how can you avoid them, asks Aidan Lewis.
Plummeting temperatures and icy winds present two main dangers. Hypothermia, in which your body shuts down after reaching an abnormally low temperature, and frostbite, an injury to the body caused by freezing. This is most common on extremities such as fingers and toes, but can affect eyelashes.
Sitting out a cold snap indoors, with plentiful stocks of food, water and medicine, is one solution. Taps can be kept open at a drip to stop pipes freezing. Pets can be brought inside.
Many schools and offices in the worst affected areas have been closed. But those still needing to make essential trips are advised to wear several layers of loose fitting clothing, with a wicking layer at the base that won't leave moisture on the skin, and a tightly woven outer layer. Mittens are warmer than gloves. Hand or foot warmers can be placed inside a glove or inside a boot, though these may not heat the tips of fingers or toes.
Goggles or glasses can help keep the temperature around the eyes stable, says John Stone of Survival Systems in Halifax, Canada, though eyelashes are only likely to freeze together if they're wet. Eyeballs, he says, are likely to be fine in these temperatures.
Earrings and facial jewellery should be removed, he says. "The temperature of the metal is going to become very cold very quickly, much more quickly than the skin temperature."
Caffeine and alcohol cause your body to lose heat more rapidly. It's best to seek shelter if you feel your body temperature dropping. Chicago, where temperatures dropped to -27C (-16F), was extending the opening hours at warming centres across the city.
Vehicles, like homes, should be well-stocked with emergency supplies. Though petrol (gas) only freezes at about -60C (-76F), diesel can clog at -10C (14F) and needs to be "winter-weighted". Tyres can freeze solid, which makes for a bumpy start to a journey but is unlikely to damage them, says Stone. "It's like driving a Fred Flintstone-mobile."