Paper Monitor: A snowball's chance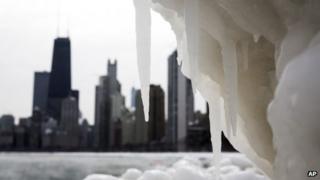 There's a cold wind blowing from the US Midwest.
In the town of Hell, Michigan (population 266, according to Wikipedia) temperatures plunged to -13C, or -37C if you take wind chill into account.
For the Sun, it's a no-brainer that this is worthy of a front-page splash.
"HELL FREEZES OVER," declares the headline on the front page.
In the print edition, the story by US editor Pete Samson, begins with the unimprovable: "They said it could never happen..."
The Daily Telegraph has its own despatch from the town of Embarrass, Minnesota, where the thermometer plunged to -35C.
"The problem isn't the cold at night, it's during the day. When it gets below zero and there is a wind, it's bone chilling," writes Sandy Gibson, deputy town clerk of Embarrass.
Elsewhere, the paper notes that Anana, a polar bear at Chicago's zoo, has been taken indoors. Things must be bad.
Inexplicably, the Daily Express - renowned for its love of splashing on weather stories - fails to find room for the frozen US Midwest on its front page.
Instead it leads with a health story, that other perennial staple of the self-styled World's Greatest Newspaper. Looks like hell hasn't quite frozen over yet.
Follow @BBCNewsMagazine on Twitter and on Facebook