Super Bowl ad breakdown: Jaguar v Chrysler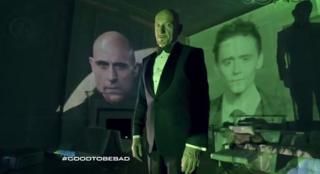 Jaguar and Chrysler went head-to-head in the biggest advertising arena on the planet - the Super Bowl. But who came off best, asks Brian Wheeler.
Everybody loves a villain. And the Jaguar F-Type ad has three of them - Sir Ben Kingsley, Mark Strong and Tom Hiddleston. The three actors are all British, of course. Because that's how Hollywood likes its bad guys - and that is also the riff that this advert plays on. Why are movie villains always British? Because they are evil geniuses, cool, commanding and super-suave. And they drive Jaguars.
This is the first time Jaguar has shelled out for a Super Bowl slot - and they have thrown everything at it. Oscar-winning director Tom Hooper (The King's Speech) puts together a glossy, high-octane production with jets, helicopters and car chases.
It doesn't always make too much sense.
"Feels muddled instead of the sexy beast it should have been," sniffs industry bible Adweek, referencing Sir Ben's scariest creation of all, foul-mouthed Cockney psychopath Don, from Sexy Beast. Now that would have been an ad. Adweek gives Jaguar a C-grade in its round-up.
That, incidentally, is how big this thing is in the US - there are websites dedicated to discussing and rating the new Super Bowl ads as if they are the latest Hollywood blockbusters. It is advertising as event.
And Chrysler are past masters of it. Their 2012 Super Bowl ad featuring Clint Eastwood ("it's half-time, America") was a jaw-dropping hymn to wounded American pride and resilience. Now we get Bob Dylan delivering a two-minute paean to just how cool America is.
"What could be more American than America?" he asks as the stock footage of iconic Americana begins to roll. You've got us there, Bob. The pay-off is priceless: "Let Germany brew your beer/Let Switzerland build your watch/Let Asia assemble your phone/We will build your car."
So that's the American brewing and watch-making industry finished, then
Having Bob Dylan in an ad feels like an event in itself (it shouldn't - he's been in several of them before, including one for Victoria's Secret underwear) but it got Adweek, which gave it an A, raving: "Dylan is a cool cat, and this ad has a hell of a lot of swagger."
Some critics have questioned whether its bombastic appeal to patriotism really works now that Chrysler is a wholly-owned subsidiary of Italian car giant Fiat.
Jaguar is no longer British-owned either - it is part of Indian conglomerate Tata. But their ad plays on its outsider status, daring the car buyer to go with something a little bit edgy.
Jaguar also steals a march on Chrysler in the event stakes - with online teasers ahead of the main event, a making of video and a website with tips on how to be a super-villain. Its twitter hashtag is doing good business.
Chrysler, by contrast, kept their ad under wraps until the third quarter of the big game.
By which time, as Forbes magazine points out, the Super Bowl was all but over as a contest and many viewers had switched off.
A victory for British super-villainy?
Follow @BBCNewsMagazine on Twitter and on Facebook