Caption Challenge: Giant glass ball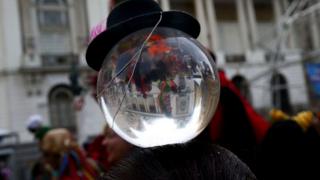 Winning entries in the Caption Challenge.
The competition is now closed.
This week it's a giant glass ball on a reveller's head at the Rio Carnival.
Thanks to all who entered. The prize of a small amount of kudos to the following:
6. Resa:
Still got my marbles...
5. Jim Nicol:
Obese raindrops blamed for recent flooding.
4. Adrian Wade:
William Tell could have seen it coming...
3. Andre Loustau:
Rule #1 at the Rio Carnival: "Always keep a clear head."
2. Dodie James:
Due to technical difficulties in grinding the lenses, early monocles took some getting used to.
1. Richard:
Moments later, the glass ornament containing a scale model of buildings and revellers was inverted, finally answering the long-standing question of precisely what a snowstorm in Rio on carnival day would look like.
Full rules can be seen here
[16KB]
Follow @BBCNewsMagazine on Twitter and on Facebook