Small Data: The lucky 49 who find out early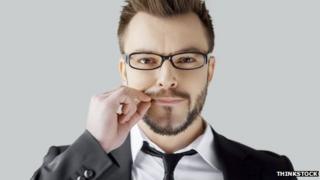 Official statistics can have major effects when they're released. But there are always some people who get to find out early, writes Anthony Reuben.
On Tuesday, the Office for National Statistics (ONS) will release official inflation figures, showing the latest estimates of how much prices have been rising.
Everyone gets to see the figures at 09:30 GMT. Everyone, that is, except for 49 lucky people, who get to see it on Monday morning.
I'm not talking about the people who work it out - obviously people at the ONS have known the number for days. These 49 people include the country's most powerful people, such as the prime minister, the chancellor of the exchequer, the governor of the Bank of England and the press officer at the Department for Business, Innovation and Skills.
The deputy prime minister's chief of staff gets it in advance, as does the permanent secretary to the Treasury, and his private secretary. And the pre-release number is even higher if the Bank of England's interest rate-setting Monetary Policy Committee (MPC) is meeting at the time. Members of the MPC and their assistants can get official statistics as much as three-and-a-half days early if they're holding their monthly meeting in that time. Also, slightly strangely, if the MPC is having a meeting in the three days before the figures are due out, the chancellor gets the figures three-and-a-half days early, but the prime minister gets them only 24 hours in advance as usual.
Can you imagine the "I know something you don't know" expressions at 11 Downing Street?
Some people think it's a bit dodgy that anyone gets to see official statistics in advance. Sir Andrew Dilnot, chair of the UK Statistics Authority, said in a recent letter: "We will continue to argue against government ministers and officials having privileged access to statistics before Parliament or the public."
The government reviewed its position in 2010 and decided not to change it. It explained that the public and the media expected ministers to be able to answer questions about statistics as soon as they had been released.
So pre-release access continues for the lucky 49.
Follow @BBCNewsMagazine on Twitter and on Facebook