Caption Challenge: Comic capers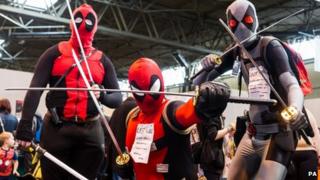 Winning entries in the Caption Challenge.
The competition is now closed.
This week fans dress up as super heroes at a Comic Con in Birmingham's NEC.
Thanks to all who entered. The prize of a small amount of kudos to the following:
6. Tony Auffret:
The Cleckheaton amateur Spiderman Ninja Morris Dance were disqualified for having the dance routine pinned to their chests.
5. Valerie Johnson:
We don't care how big the rat is, we're ready!
4. Vince:
All right guys, you CAN get tickets to Kate Bush.
3. James Hood:
Scotland Yard unveil new undercover team to infiltrate Fathers for Justice.
2. Nick Wakelin:
I'm Spidercus.
1. Trevor Spedding:
The superheroes party unfortunately turned into a bit of a sworded affair.
Full rules can be seen here
[16KB]
Follow @BBCNewsMagazine on Twitter and on Facebook