The tale of Nelson Mandela's rabbit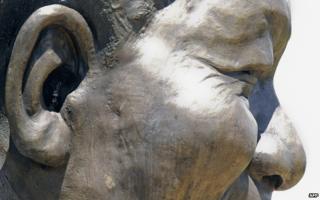 Once upon a time there was a little rabbit who lived in the ear of a statue - the statue of a man called Nelson Mandela.
The statue lived on a green in Pretoria and the rabbit, which was made of bronze like the statue, didn't get into mischief until one day somebody saw it.
Why, people asked, is a rabbit sitting inside the ear of this monument to the first black leader of South Africa, the man who helped end white minority rule, who promoted reconciliation, and who touched all our lives before he passed away in December?
"We don't think it's appropriate," government spokesman Mogomotsi Mogodiri told the BBC in January, "because Nelson Mandela never had a rabbit in his ear."
The sculptors pleaded that the little figure was just their trademark, and a way of saying how fast they had worked to get the statue made in time - the Afrikaans word for rabbit is haas, and that also means haste. And furthermore - you would need to look really hard to notice the tiny rabbit up there on the 9m (30ft) statue.
None of these arguments convinced the men in suits in the government offices in Pretoria. "It was agreed that it should be removed and that was done," said one of them this week. The rabbit is now gone - and all we know is that it was given back to one of the men who helped bring the statue to life, Dali Tambo.
Will appeals by tweeters to #savetherabbit fall on bronze ears? Will a suggestion by the animal rights charity Peta to adopt it be adopted? "We would be honoured," Peta says, "to use the bronze rabbit, the same animal who proudly leaps across Peta's logo, to honour Mandela's vision of a more peaceful, kinder world." Mr Tambo has said only that it might "end up in the garden near Mandela".
The lesson for small, cute bronze rabbits is clear: you may go into the fields or down the lane, but not into history.
Follow @BBCNewsMagazine on Twitter and on Facebook