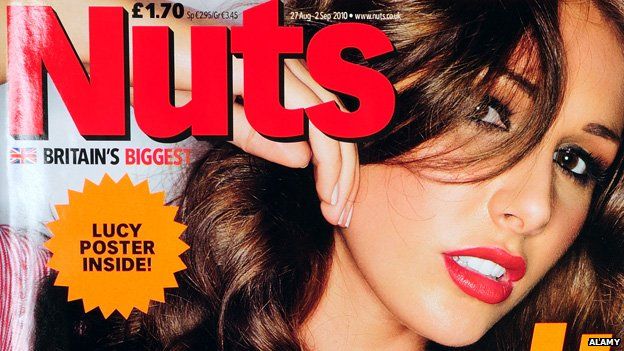 Nuts is being shelved. Or should that be shelled. The once-massive lads' mag is now a shadow of its former self.
In 2004 it galloped on to the nation's news-stands promising 18-30-year-old men a diet of "girls, gadgets, footy and laughs". Along with its rival weekly Zoo - the Times Literary Supplement to Nuts' London Review of Books - it made longstanding lads' mags like FHM and Loaded look like Betty Friedan's The Feminine Mystique. In its heyday, Nuts earned remarkable sales of 300,000 each issue thanks to its unswerving fidelity to a diet of cars, football and plentiful images of the likes of Lucy Pinder not wearing much in the way of clothes.
"Glamour" shots enjoyed prominence above all else, and Nuts' USP lay in putting less emphasis on professional models in favour of what it termed "real" girls. An early "no nipples" policy was jettisoned. The result was such features as "Assess My Breasts" and "The Street Strip Challenge". The "Real Girl Roadshow" would see a Nuts team dispatched to Coventry or Lancaster or Sheffield where they would encourage local women to disrobe for the camera. Such was Nuts' benefaction to the profession of Tom Wolfe and Hunter S Thompson.
But friends of Nuts may have predicted its demise as, after the initial novelty, it was always in a fight to the death with something called "the internet". The digital piping of a seemingly limitless supply of smut into every bedroom made the process of shame-facedly visiting the local garage to spend £1.70 on a copy much less appealing. Campaigns such as Object and Lose the Lads Mags lobbied to have such titles taken off the shelves. Nuts' circulation dropped by one third year-on-year in the second half of 2013. It was pulled from Co-op stores, with the supermarket demanding the magazine be distributed in "modesty bags". It was a gloomy fate for a publication marketed under the title "When You Really Need Something Funny".
Add your tributes using the form on the right.