Who, What, Why: The controversy over which way a child seat faces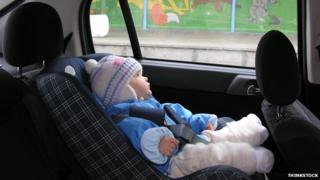 The Duke and Duchess of Cambridge courted controversy in New Zealand after they used a forward-facing baby seat. Are the seats unsafe, asks Tom de Castella.
A minor storm has blown up in New Zealand over the Royal couple's choice of baby seat. The Duke and Duchess of Cambridge chose a forward-facing seat for Baby George, who is eight months old. It was fitted by Plunket, New Zealand's national childcare agency despite Plunket's own advice stating that children should face backwards until the age of two. The childcare body has since been attacked on Facebook for double standards.
Forward-facing is what the Duke and Duchess asked for, according to newspaper reports. There are good reasons why they might prefer this. It's easier to see if the baby is asleep and to maintain eye contact. But which way is safer? The UK government's advice states that babies up to 13kg should have rear-facing baby seats. But it also says either forward or rear-facing seats are fine for children from 9-18kg.
Rear-facing for as long as possible is what many retailers, such as Mothercare, advise parents of young children. In 2009 the British Medical Journal reported that rear-facing seats are safer for children under four. However the study found that many parents move their child to a forward-facing seat at 9kg or eight months - the age of Prince George. "Excessive stretching or even transection of the spinal cord can result if a child is involved in a head-on crash while in a forward facing car seat," it reported.
A head-on crash is what causes the most serious injuries, says Matthew Avery, head of research at Thatcham, the car safety agency. The head shoots towards the windscreen if the seat is forward-facing. But if it is rear-facing the seat back will support the head and neck. This is doubly important for babies and young children who have disproportionately heavy heads and weak neck muscles, he says. Avery kept his two children in rear-facing seats until they were four - something that is common practice in Sweden, he says. Children are safer in the back than front. But if a child is put in the front in a rear-facing seat, the airbag must be deactivated, he warns.
Follow @BBCNewsMagazine on Twitter and on Facebook