Caption Challenge: Winning entries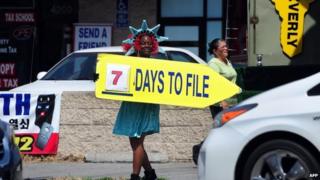 Winning entries in the Caption Challenge.
The competition is now closed.
This week a woman with a sign reminds people to file their tax returns.
Thanks to all who entered. The prize of a small amount of kudos to the following:
6. Paul Donlon:
"Slow Manicures Take Off in America".
5. Dave laycock:
"...or we'll get the nailclippers out..."
4. MukkaMonkey:
IRS PR Agency totally misunderstand their brief and hands out giant emery boards by mistake.
3. Mark Slade:
"GOLF SALE" man finally finds his dream date.
2. Richie_53:
Austerity hits Liberty who now has to take second job.
1. Thomas Poxton:
Nail bar predicts apocalypse.
Full rules can be seen here
[16KB]
Follow @BBCNewsMagazine on Twitter and on Facebook