Five people compared to Adrian Mole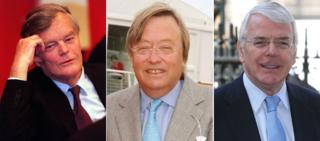 Sue Townsend, the creator of fictional diarist Adrian Mole, has died. The character who started life at 13 3/4 has permeated culture and led to unlikely comparisons to real life figures. Here are five.
The prime minister
John Major was compared so closely to Adrian Mole that a spoof column appeared in Private Eye called The Secret Diary of John Major (aged 47 3/4).
Townsend, herself, once said of Adrian in an interview: "I couldn't imagine what he looked like until I saw John Major on the television and Margaret Thatcher was introducing her Cabinet... There was this geeky looking man at the back of the group. I said to my children, 'My God that's Adrian Mole'."
After John Major's affair with Edwina Curry was made public, Private Eye editor Ian Hislop said in the Sunday Telegraph in 2002 that the details of the affair were in keeping with Mole.
"The extract in Edwina's diary that refers longingly to this man 'in his blue underpants' does not turn Major from an typically English joke figure into a suave and sophisticated French-style politician; it just makes him more ludicrous."
The aristocrat
One grew up in suburban Leicester, the other in the stately home Longleat in Wiltshire. But The Daily Mail's June Southworth found many similarities between a 19-year-old Viscount Weymouth, Ceawlin Thynn, and Adrian Mole. In 1993 she was struck by his "eyes shining with idealism behind his granny glasses".
"A skinny, pale youth, he sports jeans, T-shirt and a short-back-and-sides, and has the slightly prim and earnest air of a social worker trying to bring some order to the chaos of a problem family."
The diarist
Unrequited lust was a running theme in Adrian's life. Something David Mellor noted in 1998 in the Mail on Sunday was also present in Alan Clark's diaries.
"Alan reveals himself here to be not so much a mole at the Ministry, as Adrian Mole at the Ministry. Lots of breathless stuff about big-breasted Folkestone shop assistants and sad passages such as: 'At lunchtime I was on the news both going into and emerging from Number Ten. I do hope Jane sees it.'"
The king
He was alive more than 400 years before Adrian Mole was old enough to fret about pimples, but that didn't stop historian David Starkey comparing Edward VI to the diarist. The prince, like Mole, recorded his painful time growing up Starkey points out in his documentary Edward and Mary.
"Remarkably Edward has left us his own account of the turbulent years of his childhood, written as if he were a character in his own drama".
The generation
The New Statesman's Martin Bright noticed back in 2005 that the rising stars of Labour, the Lib Dems and the Conservatives were roughly the same age as Adrian.
Adrian Mole was born 2 April 1967, meaning both David Cameron and Nick Clegg would have been in the same school year, with Ed Miliband three school years below.
On age alone, he rightly predicted "whatever happens in the next few years. One way or another we will have Adrian Mole as Prime Minister."
He says the context they grew up in was bound to have an influence.
"The Moles, like Adrian himself, had their politics forged in the sectarian politics of the 1980s. Their university years - Oxbridge of course - were bracketed by the miners' strike and the fall of the Berlin Wall. The economic recession that followed made them cautious and socially conventional."
Follow @BBCNewsMagazine on Twitter and on Facebook