Glasgow Red Road: Should demolition of buildings be used as entertainment?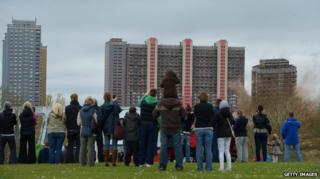 Plans to demolish five tower blocks as part of the Glasgow Commonwealth Games opening ceremony have been scotched. Is it appropriate for demolitions to be turned into public spectacles, asks Finlo Rohrer.
The five well-known blocks at Red Road will still be demolished. But this particular revolution in Glasgow's social housing will not be televised.
There was the threat of protests, a group letter from architects in Glasgow and a former MSP Carolyn Leckie, who criticised "the disrespect displayed by blowing up homes for entertainment". Her petition attracted thousands of signatures.
There have been many occasions when big demolitions using explosives - known colloquially as "implosions" - have been presented as entertainment. In February, about 30,000 gathered in Frankfurt to witness the controlled demolition of Frankfurt's university tower, one of the biggest demolitions ever carried out in Europe. Thousands gathered in 2000 in the streets near Seattle's Kingdome sports arena when it was blown up. When, in 1995, the Landmark Hotel in Las Vegas was blown up, it featured in the movie Mars Attacks.
"The Americans do love an implosion, particularly around Las Vegas - every implosion of a hotel is a major event," says Mark Anthony, editor of Demolition News. There are TV crews and a kind of carnival atmosphere in some cases. "There are people in many countries who will travel thousands of miles to see one."
But in the UK, the phenomenon is much less spectator-led, suggests Anthony, although that's not to say that many haven't enjoyed the impressive sight of a block collapsing in on itself.
Architect Maxwell Hutchinson wrote that during the great wave of demolition of 1960s tower blocks, "picnic parties sat on London's Hackney Marshes as tower after tower exploded and crashed into a pile of wasted idealism and dreams".
But in the case of Red Road, it's wrong to have demolition as entertainment, says Miles Glendinning, professor of architectural conservation at the University of Edinburgh. "The proposal filled me with horror and disgust." The planners of previous eras may have made mistakes, with hindsight, but they often had good motives, he suggests.
There's no doubt that when the five towers are eventually demolished some spectators will gather. But Anthony will not be among those who are impressed by the sight. "I'm probably a bit jaded because I've seen so many," he says.
Follow @BBCNewsMagazine on Twitter and on Facebook