Why is Captain Underpants the most complained about book?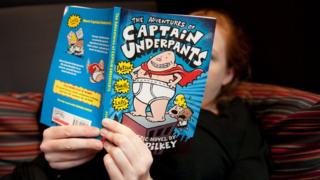 The children's series Captain Underpants has topped the list of the 10 most complained about books in US libraries. Why, asks Clare Spencer.
Every year the American Library Association's Office for Intellectual Freedom compiles a list of the top 10 most frequently "challenged" books. All these titles have been the subject of a formal, written complaint, filed with a library or school, requesting that they be removed. Sexual explicitness was the most common category of complaint levelled at books between 1990 and 2009. Indeed, Fifty Shades of Grey appears in the ALA list at number four. So it seems strange that a series aimed at seven-year-olds would top the complained about list for the second year in a row.
The plot sees Mr Krupp, a school principal, being hypnotised into believing he is a superhero called Captain Underpants who fights crime in his underpants. Every time someone clicks their fingers he turns back into his alter ego. Parents complained that the books were unsuited to the age group and contained violence and offensive language. It must be noted that chapter 16 of the first book in the series is called the Extremely Graphic Violence Chapter. There's even a warning: "The following chapter contains graphic scenes showing two boys beating the tar out of a couple of robots."
Parents tend to be afraid of "potty language", says the ALA's Office for Intellectual Freedom director Barbara Jones. "A lot of people still think of children's books as academic, that they should be more restrained." But children are often drawn to anarchic, naughtier books. The series panders to children's fascination with depictions of bodily functions. There's plenty about picking noses.
As to whether a book is "too old" for an age group and therefore unsuitable, it's always a difficult judgement to make. "People want to protect kids until they are older from the evils of the world. The other thing that gets complained about is lack of respect for authority," says Jones. "Many people believe that children should not read books about defying authority."
Follow @BBCNewsMagazine on Twitter and on Facebook